By David Robie
One political cartoon depicted President Gaston Flosse as a vampire. A potted "species" note in the opposition newspaper Te Teo o Te Amuitahiraa described him as Flossilus vampirus and added that he easily mistook his party colour, orange, for gold.
Another cartoon showed him as a giant coconut crab scuttling off with a pile of money. Yet another portrayed the President as Bokaflossa I — after deposed Central African emperor-for-life Bokassa — with the party slogan "always more for myself".
A fourth caricature showed him as a traditional Tahitian high chief with slaves offering him the French airline UTA and the fuel-storage freighter Petrocean on a plate.
Rarely in a Tahitian election has a political personality become such a target for cartoonists and satirists. Flosse largely ignored the critical barbs [for this 1986 election], determined to make his reply through the ballot box. But then he could afford to. Most of the mass media  supported him and his opponents were forced to attack through small-circulation party newspapers — and the coconut wireless. However, occasionally the criticism stung and he retaliated.
An editorial in the Tahoeraa Huira'atira party paper Te Tahoeraa recalled the words of Archbishop Michel Coppenrath, head of the Catholic Church in Tahiti, at the beginning of the election campaign: "Say and do what you wish, carry your campaign work, but respect the inhabitants of our country and don't oppose them. Peace above all."
He warned against the the language of hate, adding: "You can kill the dove of peace with words." Yet his warning was largely ignored.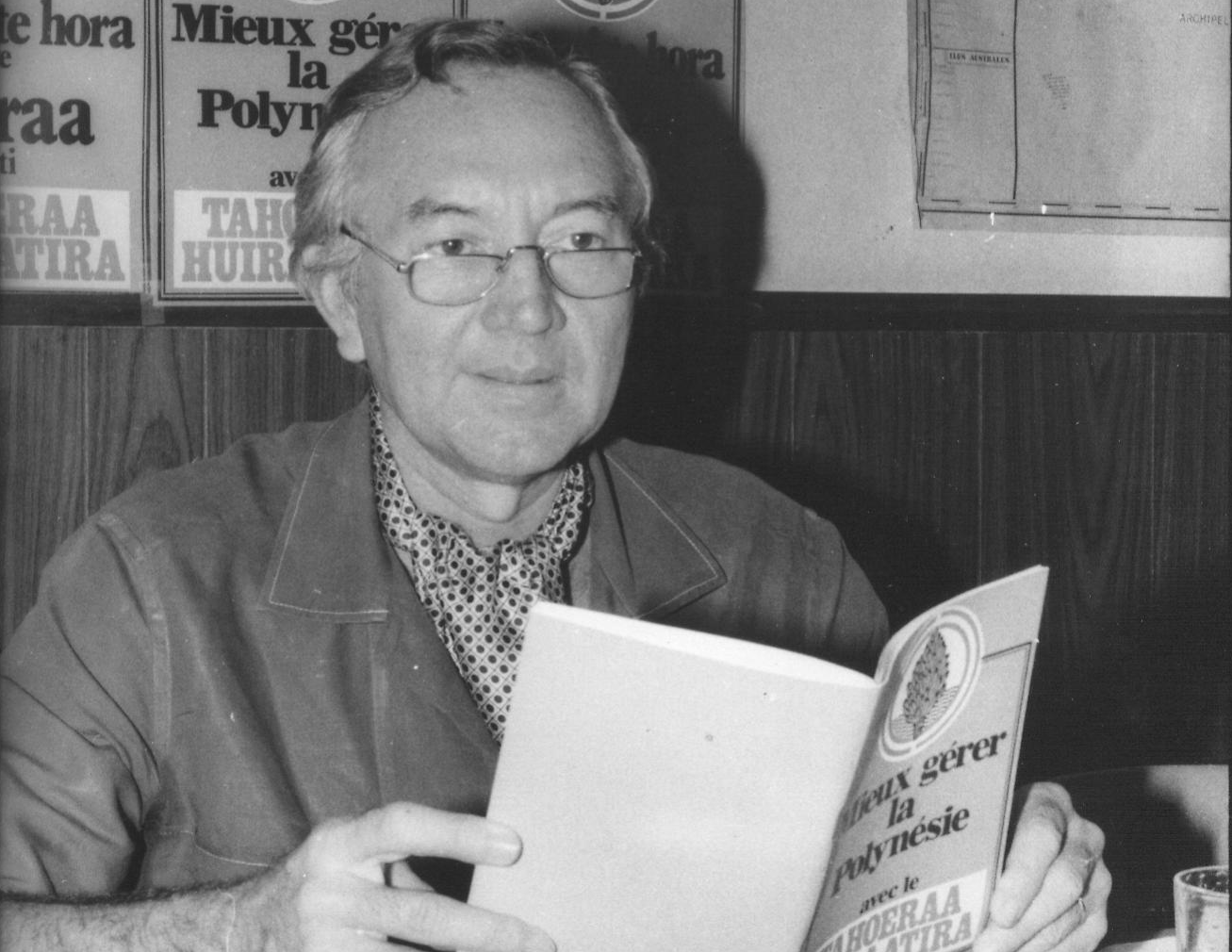 "For several weeks a torrent of lies, defamations and insults have been heaped on the voters by the opposition," complained Te Tahoeraa . . . "But you cannot build a country on hatred. It is built on a coherent and realistic programme. It is built on a common wish and with a solid team." It added that the opposition had no real plafform.
But the editorial failed to deflate the scathing satire. Some of the attacks were witty rather than wretched; for a satirical commentary in Te Reo about a meeting between gaullist envoy Bernard Pons and Flosse as an example:
"Gaston, are you gaullist?"
"Yes, long live De Gaulle."
"Fine Gaston, but do you truly know what gaullism is?"
" . . . Not very well. Can you just fill me in a little?"
"A true gaulllist must hold the interests of the state above all and the public interest must take precedence over private interest . . . The chief who represents his country must have a dignified attitude, noble, heroic if it is needed, and when required must sacrifice himself completely for the nation . . . He must have a higher goal of leading his people and show an example . . . Gaston, do you really want to be a gaullist?"
"No, actually, I would rather not. I'm more flossiste than gaullist. Vive myself. Vive Flosse!"
In 2022, French Polynesia's 91-year-old former president and veteran politician, Gaston Flosse, was given a suspended prison sentence for producing a fake contract to register as a Pape'ete voter. The criminal court gave him a nine-month suspended sentence, an US$,000 fine, and declared him ineligible for public office for five years, dashing his hopes of standing in the 2023 territorial elections.
This is part 2 of six reports in David Robie's nine-page cover story portfolio for Islands Business magazine covering the 1986 Tahitian elections. Oscar Temaru went on to become President of French Polynesia five times, the first instance in 2004. His party made a comeback in 2023 to decisively win the Territorial Assembly outright, with Moetai Brotherson as President and independence still the longterm goal.