By David Robie
Two flags fly outside most town halls in "French" Polynesia. One is the Tricolore of the French republic; the other is the red and white striped flag of Tahiti.
But Faa'a is different. The maire of this airport town, the second largest with around 23,000 inhabitants, has three flags. Besides the usual pair is a blue-white-blue banner bearing a Christian cross and the words in Māohi Te atua tau fatu –"God is our leader."
This is the ensign of popular mayor Oscar Manutahi Temaru, the man who is leading the  resurgence of the campaign for Tahitian independence.
Four years ago [1982], Temaru's Tavini Huira'atira No Porinetia (Polynesian Liberation Front) was regarded as a fringe party. But the following year he won the mayoralty of Faa'a and since then his popularity has soared. Already he is being talked about as the most charismatic figure in Tahitian politics since the late militant independence leader Pouvanaa a Oopa.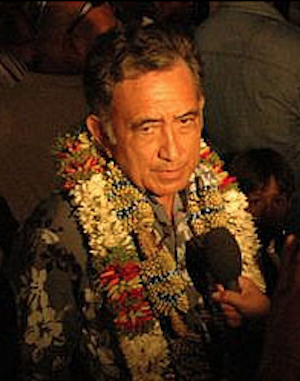 Until his election to the Territorial Assembly, the 41-year-old Temaru was a senior customs official. The mayor's job is regarded as part-time in French communities but there's no short-changing in Temaru's approach. His maire is probably the liveliest in Tahiti. Just to get to see him isn't easy ready for a chat as he is — and his day starts at 6am — Tahitians line up by the score hoping to get a chance t share their problems with the metua (father).
His office is simply furnished. On the wall behind him is a picture of Jesus Christ and the new flag of Kanaky. On another wall are posters demanding independence for Guadeloupe, a French territory in the Caribbean, and an end to nuclear testing by President François Mitterrand. Opposite him is a declaration by Australian Labour MPs appealing for a halt to the Moruroa tests.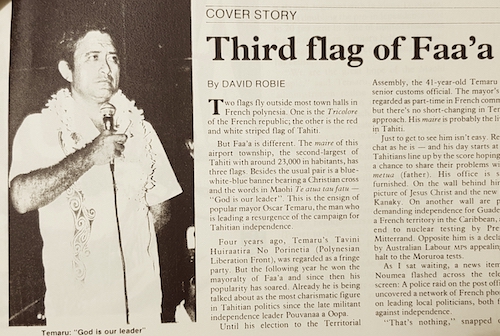 As I sat waiting, a news item from Noumea flashed across the television screen: A police raid on the Post Office had uncovered a network of French phone taps on leading local politicians, both for and against independence.
"That's nothing," snapped one of Temaru's aides."The French have been bugging us all along."
Jubilant over victory
The party was jubilant over winning two Assembly seats and, together with Ia Mana Te Nunaa, almost doubling the pro-independence vote to 20 percent in spite of limited resources for the campaign. Temaru believes it is just the beginning as poorer Tahitians rally to his cause.
"We are the great hope of the Māohi people," said Temaru, "and the French administration realise it — and fear it. France wants us to think French, eat French and die French.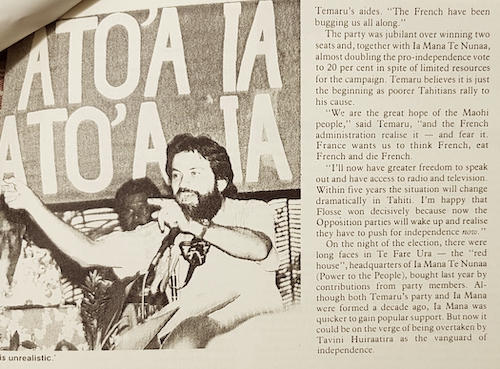 "I'll now have greater freedom to speak out and have access to radio and television. Within five years the situation will change dramatically in Tahiti. I'm happy that [Gaston] Flosse won decisively because now the opposition parties will wake up and realise they have to push for independence now."
On the night of the election, there were long facesin Te fare Ura — the "red house", headquarters of Ia Maaana Te Nunaa (Power to the People), bought last year with contributions from party members. Although both Temaru's party and Ia Mana, led by Jacqui Drollet, were formed a decade ago, Ia Mana was quicker to gain popular support.
But now it could be on the verge of being overtaken by Tavini Huira'atira as the vanguard of independence.
Ia Mana's bargaining lever
In 1982, Ia Mana became the first pro-independence party to enter the Assembly, winning three seats. Ever since the party was founded in 1975 it had been growing steadily. And now Ia Mana leader Jacqui Drollet was confidently looking forward to increasing the number of seats and having a bargaining lever with the other opposition parties.
But as the results came in the message looked bleak. Faa'a was the worst. Ia Mana's votes there were halved. It wasn't much better in Pape'ete. And the destroyer was Temaru's Tavini. Ian Mana had underestimated its rival. "We'll have to become more radical," said some of the party cadres. "Independence is what the people want to hear."
But Drollet, a 42-year-old former marine biologist, wasn't so convinced. Before winning the seats in the Assembly, Ia Mana's rhetoric about independence and against nuclear tests had been fiery. However, after the three Ia Mana assemblymen took their seats and created a stir by insisting in speaking Māohi rather than French, they became more pragmatic.
"There was no point in harping on about independence all the time," said Drollet. "You have to be realistic. In 20 years Tahitians have become complete economic hostages of the nuclear testing. "We want eventual independence. But we don't want it today or tomorrow. We want to put in place a new type of economy based on justice for all our people."
Ia Mana has set up a cooperative market and drafted a manifesto on restructuring the economy on socialist, self-reliant lines — "which scares the hell out of Chinese, Tahitian and French businessmen." The party also wants to introduce income tax.
"The problem of nuclear tests is also important — how to manage them," said Drollet. "The CEP is just like an elephant in a china shop. We have to kill the elephant if our china shop is to survive."
Drollet took a swipe at Temaru. "He's unrealistic. He just takes the cross and says, 'God is our leader . . . and this is good for everybody! The right way, according to Temaru, is just to shout, Farani hors! ('French out').
"But this is independence without substance. We ask what kind of independence is this? We don't want independence and capitalism together — we would be doomed." Temaru is equally scathing about Ia Mana, claiming it isn't a "sincere" independence party.
Yet in spite of their differences, Temaru and Drollet have talked them out since the election and are expected to form a pro-independence bloc in the new Territorial Assembly. Other opposition parties may join them.
This is part 4 of David Robie's nine-page cover story portfolio for Islands Business magazine covering the 1986 Tahitian elections. Oscar Temaru went on to become President of French Polynesia five times, the first instance in 2004. His party made a comeback in 2023 to decisively win the Territorial Assembly outright, with Moetai Brotherson as president and independence still the longterm goal.