Edited by David Robie
"The Pacific is in upheaval — growing poverty, nuclear testing, independence struggles, militarisation and massive social dislocation are pressing, often intractable issues.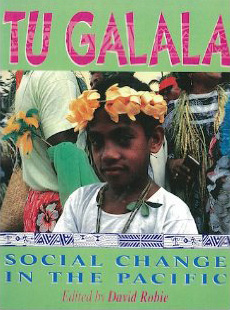 "In Tu Galala (Fijian meaning 'freedom'), indigenous and palagi writers describe the impact of these influences on their people.
Topics covered include the Bougainville crisis and the environmental impact of mining on indigenous communities in Australia, Aotearoa New Zealand and Papua New Guinea; hazardous waste dumping and the Johnston Atoll chemical weapons burn-off controversy; human rights violations in Fiji, Papua New Guinea, the Philippines and East Timor; 'development' in Kanaky/New Caledonia, and tino rangatiratanga in Aotearoa/New Zealand." — Back cover
Preparation for Tu Galala was assisted by the Pacific Development and Conservation Trust, a fund set up in New Zealand with compensation money from the French government for the bombing of the Rainbow Warrior in Auckland Harbour on 10 July 1985.