Who controls the past controls the future. Who controls the present controls the past.
— George Orwell, Nineteen Eight-four
By David Robie
Judging by how the number of "hits" at my Café Pacific blog tripled after news emerged late in August [1998] about condemnation by some quarters in Fiji officialdom and a handful of anonymous and self-interested media people, online readers were quick to check us out for Pacific "hidden agendas", as John Pilger would say.
This mild website barely caused a ripple with officialdom for the two years it was hosted at the University of Papua New Guinea. But a mere six weeks in Fiji has led to some local media personalities — some would describe them as hacks — and two misled ministers ducking for cover.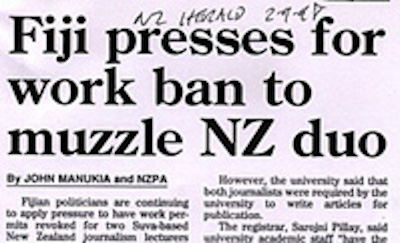 Firstly, I need to clear up any misconceptions lingering after the smear campaign of the past week, which had a Kafkaesque quality — the accusations from faceless accusers kept changing ground.
Neither I nor my colleague, Ingrid Leary, a qualified lawyer and journalism academic, have been in breach of our Fiji work permits. These are trumped up claims to divert people away from the substance of my websites or her Media Watch column in Fiji's Daily Post. Nor do I make any money from websites.
Nor do I have any business interests in Fiji. My commitment is to rebuilding the University of the South Pacific journalism programme which has awaited a much needed professional boost.
Café Pacific began life as an educational project in 1996 at the University of Technology Sydney and promptly won an award. It is now continuing as an independent cyberspace netzine, but it also has a role, along with other media websites, as a teaching tool with my senior journalism students at USP.
Actually, the website is not physically in Fiji at all. Although it has a Fiji "domain", Café Pacific is actually set up on web servers in three other countries. Impossible to gag.
Why try to gag us?
So what is at the bottom of all this? Why should a group of journalists in Fiji want to try to gag Ingrid and me, or try to have our work permits revoked? Is it the continuation of the campaign at the start of this year against our appointments? Or is it the vendetta waged against me by some journalists at Islands Business since the military coups more than a decade ago?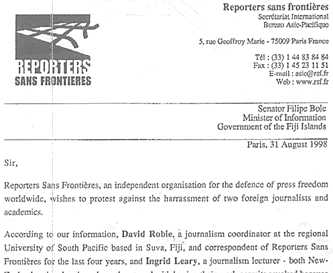 Why the hypocrisy of Pacific Islands News Association president William Parkinson in not standing up for academic and media freedom in our case, and trotting out the work permit red herring? And this after an international media freedom organisation, Reporters Sans Frontières, had already protested to the Fiji Government against our harassment. (The national university staff association of New Zealand and others have also followed with protests – see Pacific Media Watch). Is it because of my formal complaint filed with the Fiji Media Council in April against some sections of the local news media and PINA individuals?
Does it have something to do with attempts to corner the lion's share of journalism education and training funds for the South Pacific? Independent university courses don't fit comfortably with this grand scheme because they teach critical thinking as well as vocational skills. And the fact is that in the past six months Ingrid and I have turned the USP journalism programme into the best in the region.
Or is it unashamedly resentment at two regional staff being appointed from New Zealand instead of a local candidate from Fiji? This is a regional institution, not a Fiji national university, and its policy is appointing the best people for the job.
You make up your own mind. But here is a rundown on the facts:
We reportedly became under threat of having our work permits being revoked because of sensitivity by the Fiji government over media commentaries in what has been dubbed by Pacific Media Watch as the first "freedom of the internet media" case in the South Pacific. But it quickly became apparent that the real sensitivity was from certain quarters in the media.
On Thursday, 27 August 1998, The Fiji Times carried a story reported by Margaret Wise claiming that the Fiji government was investigating complaints that Leary and I had allegedly "breached" our work permit conditions. The inquiry was said to be directed towards revoking our permits.
Focused on my report
The inquiry apparently focused on my report which criticised Fiji government plans to legislate for a Media Council to replace the independent and self-regulating council already in place.
The newspaper followed with similar claims against Ingrid and me the following day, saying the government "would withdraw [our] work permits if they were found to have breached the terms under which they were given'. After cursory attempts at getting comment on the first day, Wise failed on the second day to make any serious attempt to seek our views or balance the allegations.
Worse, the newspaper failed to report an official statement by the university's Registrar, Sarojini Pillay, defending us and stating that our activities were within the normal roles of research and publication carried out by academics.
The university statement also quoted Professor Subramani, head of the literature and language department, saying that the pair of us had been doing "outstanding" teaching and publication for the journalism programme.
Other news media in Fiji did carry the university's statement and cited our rejection of the claims by the Ministry of Home Affairs and Immigration.
None of the complaints were directed to either the university or us. However, The Fiji Times reported that the ministry's permanent Secretary, Emitai Boladuadua, said some government departments and some "members of the public" — as it turned out, some media people who had been opposed to us taking up our positions earlier this year — had made complaints.
Jone Dakuvula, a former press secretary to Prime Minister Sitiveni Rabuka and a onetime investigator with New Zealand's Human Rights Commission, was quick to point out in the Sunday Times on August 30 that under the new Fiji Constitution [Section 30 (1)]:
Every person has the right to freedom of expression, including: Freedom to seek, receive and impart information and ideas; andFreedom of the press and other media.
He added: "Reading from your report, it appears to me that some local news media employees or journalists were involved in these complaints, which seem to be based mainly on these persons' disagreements with either the views of David Robie and Ingrid Leary, or the fact that they have been lawfully employed by USP.
"Our new Constitution has been in force for barely one month and here we have some news media people attempting to suppress two well-qualified journalists' freedom of expression, perhaps in the hope that they could be expelled from this country for the 'crime' of writing, publishing and teaching journalism.
"Where is the Fiji journalists' much vaunted Code of Ethics?"
An international pariah
Next May, Fiji faces its first general election since the new Constitution — its adoption helped regain the country's place in the Commonwealth after being an international pariah since the 1987 coups. A media freedom issue of this kind testing the Constitution would be an embarrassment.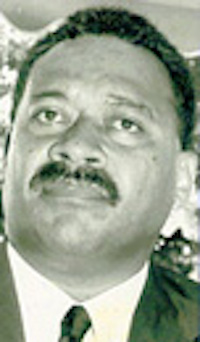 The speculation about "news media people" was quickly confirmed by an admission in a letter by the Assistant Information Minister, Ratu Josefa Dimuri, in the Fiji Times on September 1 when he said: "I would be failing my friends and former colleagues in local journalism if I did not ensure their employment opportunities are not trampled on by foreigners."Dimuri also noted that the ministry had "received complaints from both local journalists and regional media organisations who were of the view that their interests were being jeopardised by the involvement of these two people in other areas of work not stipulated in their work permits".
It is understood that the ministry's concerns focused on articles appearing on Asia-Pacific Network/Café Pacific website. I teach internet journalism at USP (including having set up the regional Pacific Journalism Online website [now called Wansolwara]), have maintained the Café Pacific site for two years at universities, and it has only become an issue in Fiji.
In the case of Ingrid, the complaints concern her weekly Media Watch column in the Daily Post and her part-time teaching at the Fiji Journalism Institute – at the request of local journalists.
The president of the USP Staff Association, Dr Ganesh Chand, has defended us, saying we have "perfect freedom" to carry out research and publish in areas of our expertise. The Fiji Council of Trade Unions secretary Pratap Chand has also called on the government to "stop victimising and harassing" us.
Many organisations and individuals have strongly supported us, but few of their letters have been reported in the local press which raises serious questions about the impartiality of the Fiji news media.
However, both newspapers did support us in the editorial columns, The Fiji Times describing the response to us as "draconian". Labelling Senator Bole's attack as "vicious", Fiji's Daily Post said the government was "not fully and properly informed" on the issue.
The Post added: "The saddest thing is the deafaning silence from the Pacific Islands News Association and the Fiji Media Council. By failing to support the rights of journalists, like Mr Robie and Ms Leary, whether they be teachers, students or whatever, these organisations are helping to destroy the very freedom of expression they have so often said they protect."
Media freedom attacks criticised
New Zealand's national staff association representing academics at all of the nation's universities made a strong protest to both Prime Minister Sitiveni Rabuka and Information Minister Filipe Bole in support of us. Executive director Rob Crozier, of the Association of the University Staff, said: "We view very seriously attacks on academic freedom."
"As a member of UNESCO, Fiji will be a signatory to the Recommendation on the Status of Higher Education teaching personnel, which was adopted by UNESCO in November 1987," he said.
"All higher-education teaching personnel should enjoy freedom of thought, conscience, religion, expression, assembly and association as well as the right to liberty and security of the person and liberty of movement.
"They should not be hindered or impeded in exercising their civil rights as citizens, including the right to contribute to social change through freely expressing their opinion of state policies and of policies affecting higher education. They should not suffer any penalties simply because of the exercise of such rights."
One of the founders of the journalism programme at USP, Professor Andrew Horn, who is now at Harvard University in the US, also defended us. In a message, he said: "For too long the countries of the Pacific basin have relied excessively on external media sources to provide information and to set the parameters of debate, while local print and broadcast services were content to serve very restricted interest groups."
It was precisely these sorts of problems, Horn argues, that the USP journalism programme was established to address: "Your work to help in the professionalisation of the region's media community, to expand its scope and give greater confidence to its practitioners should be applauded by the peoples and the governments of all 12 of the university's member states."
Anonymous 'sneaks'
Bill Southworth, executive director of the NZ Journalists Training Organisation, said the Pacific journalism community was "disappointed" at the continuing harassment of Leary and me: "In the latest incident, anonymous 'sneaks' have drawn it to the government's attention that Robie and Leary have been writing commentaries on journalism and guest lecturing at the Fiji Journalism Institute."
Added Southworth, a former editor of the Fiji Sun: "Perhaps those who wish to silence Robie and Leary should take time to read Fiji's new constitution. Section 30 says every person has the right to freedom of expression, including the freedom to receive and impart ideas.
"Even Kiwi journalism lecturers."
Many journalists have also protested. Vimal Madhavan, chairman of the Fiji Journalists Association and member of the Press Council of Fiji in 1986/87, says: "Threats to journalists, foreign or local, such as questioning their right to work, is as much an assault on our freedoms as sending in armed troops to shut down a newsroom."
John Manukia, Pacific Affairs reporter with The New Zealand Herald, says: "Nothing less than democracy and freedom of expression is at stake. To suggest that writing columns in local newspapers and on the Internet goes against the description of work permits is ridiculous. You are doing work in your field of expertise. To suggest otherwise is nonsense and I condemn such an act."
The events of the past two weeks are an indictment of the current standard of Fiji journalism, and the lack of fairness and balance in the media. Sadly, after my five years living in Papua New Guinea, I would have to say that the professionalism of Fiji news media does not compare favourably.