Pacific Media Watch
Journalism schools and media freedom groups have protested to the University of the South Pacific for suspending its Pacific Journalism Online website, describing it as a violation of press freedom.
Appealing for the website to be reopened without delay, the critics have  have cited the university's duty to uphold and defend the twin principles of academic freedom and free speech during Fiji's political crisis.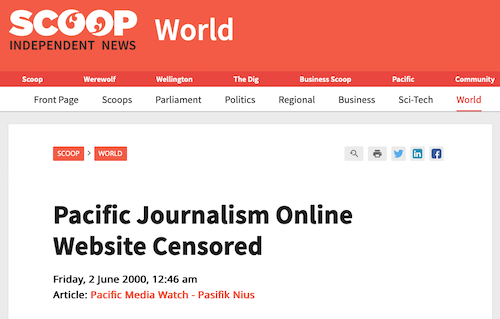 The critics include the Paris-based media freedom watchdog Reporters Sans Frontières, professors at leading journalism schools in Australia and New Zealand, New Zealand's Journalism Education Association (JEANZ) and the Commonwealth Journalists' Association.
They have also appealed for the university to allow the award-winning training newspaper Wansolwara to be published freely.
A special edition of the paper, dealing with the Fiji crisis, was published early in June in spite of threats by some senior administrators to censor or prevent its distribution. But the online edition is still barred. [In 2023, the online edition is now published as Wansolwara News].
The media watchdog RSF noted that the website  had been suspoended by the university authorities on May 29 for "security reasons" a day after Fiji Television was trashed by supporters of rebel leader George Speight.
"Gagging a website that merely publishes news, and in a professional manner, is a violation of press freedom."
— Reporters Without Borders
RSF's general secretary Robert Mènard said in a letter to USP's vice-chancellor Esekia Solofa that "gagging a website that merely publishes news, and in a professional manner, is a violation of press freedom".
'Strike at heart of press freedom'
Professor John Henningham, head of the University of Queensland's journalism department, said: "Such an action strikes at the heart of press and media freedom, and sends a very disturbing message to the fine group of students who in the midst of their study of journalism at USP are contributing to increased awareness of the Fiji coup.
"Suspension of a news and information-based website is equivalent to closing down a newspaper or television station, and clearly breaks the most fundamental principle of press freedom to which all journalists (and academics) are pledged."
Associate professor Chris Nash, director of the Australian Centre for Independent Journalism at the University of Technology Sydney, which is hosting an alternative website for the USP journalism students (www.journalism.uts.edu.au), expressed his "deep regret and profound concern" over the website closure.
"The academics, journalists and journalism students of Fiji are being watched by the rest of the world," Nash said.
"There is a great deal of sympathy for their current plight, but nonetheless there are expectations of what appropriate professional behaviour would encompass in the current situation.
"These expectations are similar to those of hospitals, doctors and nurses in a civil conflict — they are expected to rise to the situation.
"The suggestion that journalism staff and students, and indeed any academics, might somehow desist from reporting, communicating and publishing on the current situation is akin to suggesting that doctors and nurses should turn their backs on wounded people in a conflict. It is unconscionable."
'Two flames of freedom'
Associate professor Mark Pearson, head of journalism at Bond University and a former president of Australia's Journalism Education and Research Association (Jeraa), said: "Please let your [student] journalists do what they must: provide independent, objective reports of the crisis in their print, broadcast and online media. Please instruct your staff to allow Pacific Journalism Online and Wansolwara to publish freely with your blessing.
"Please show the world that two flames of freedom are burning brightly in the Pacific despite the recent political events: the flame of academic freedom and the flame of press freedom. Let history judge USP proudly."

Frontline Reporters: USP student reportage of 2000 Fiji coup.  Video: Café Pacific/USP Journalism

David Venables, president of JEANZ, said it was "important that media organisations and universities everywhere do not compromise freedom of speech or press freedom and cave into threats of violence."
"We understand the students have petitioned you for reinstatement of the website. We urge you to accept their petition and reopen it," he added.
Murray Burt, president of the Commonwealth Journalists' Association, said: "I have watched [the students'] writing closely. For the most part it has been excellent — tempered, insightful, lawful and credible in its very closeness to the action. There has been a measure of bravery, too, which should not be forgotten when the dust settles.
"I have visited your beautiful campus. I hold your journalism programmes in high regard. It would be a shame if the respect won in the Commonwealth and South Pacific were sullied by an attack of bureaucratic timidity."
USP's journalism coordinator David Robie said the suspension was an "unfortunate" decision and a "blow to the developing professionalism and enthusiasm" of student journalists.
"Any notion that journalism students shouldn't do real journalism is absurd. This is what journalism education is all about — integrated theory and practice on the job."
He said he had appealed to the university administration for a review of the decision to get the website reopened as soon as possible.
"It has been closed three weeks now and the longer it is left like that, it will have a damaging effect on the students' education. Many of the teaching materials and links are online and now cannot be accessed by students," Robie said.
University authorities have made no public comment since the closure.
The USP administration eventually relented after suspending the website on 29 May 2000 and reopened the website on 28 June 2000 and the following month the School of Humanities board of studies passed an unanimous resolution condemning the university for having closed it. In December that year, the USP students were awarded the Dr Charles Stuart Prize for the best publication — Pacific Journalism Online — in any medium and other awards, and treated to a standing ovation for their coup coverage at the annual Ossie Journalism awards of the Australian Journalism Education and Research Association (Jeraa).
First published by Campus Review (Australia), v10(24), June 28-July 4, 2000.