Edited by David Robie
"Journalists, as arch-whistleblowers, are often viewed in the same light as trouble-makers who stir up situations unnecessarily. There are deep-rooted beliefs in South Pacific societies about respect for authority that can translate into a lack of accountability and transparency, coupled with a strongly disapproving attitude towards those who question, probe and publish. The Pacific is littered with instances of publishers and journalists being chastised and chased." — The Pacific Journalist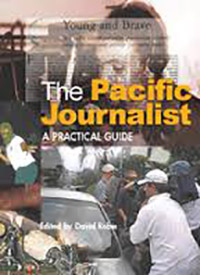 Why do Pacific Islanders want to become journalists? In spite of often tense relationships between governments and the media in the region, and poor pay and working conditions, growing numbers of young Pacific Islanders are choosing a career in journalism — and usually seeking formal qualifications.
This book from the Journalism Programme, University of the South Pacific, looks at regional careers in the media. It covers some of the core courses of the programme, such as news values, basic news gathering, news writing and style, media law and ethics, print and online media, radio and television journalism, photojournalism, and political reporting and editorial balance.
The book is edited by USP's journalism coordinator Dr David Robie, a New Zealand journalist with more than three decades of experience in the international and Pacific media. He has gathered a wide range of contributors, both journalists and media educators/trainers with long Pacific experience.
Publisher: The University of the South Pacific Book Centre, Suva, 2001, 371 pages