By Karina Abadia
Veteran journalist Dr David Robie doesn't shy away from a challenge when covering a story.
He has spent his career promoting issues pertinent to the Asia-Pacific region. His latest book Don't Spoil My Beautiful Face. Media, Mayhem and Human Rights in the Pacific recounts his experiences covering coups, the nuclear-free and independent Pacific movement and abuses of human rights.
Over his career he's always tried to bring grassroots voices to public attention.
The implications of climate change and Australian foreign policy towards asylum seekers are just two issues which don't get enough coverage, he says.
Another is the need for genuine self-determination in West Papua. Indonesian human rights atrocities there are a threat to the security of the Pacific region, he says.
Dr Robie has been arrested a few times while doing his job, including twice in New Caledonia. His "crimes" included taking pictures of a military camp in a Kanak village where soldiers were terrorising villagers and photographing white voters alleged to be using dead people's credentials for proxy votes against independence.
The Grey Lynn resident has also been at the forefront of some significant events in New Zealand.
As a journalist he was there when protesters stormed Rugby Park in Hamilton during the 1981 Springbok Tour. In 1985 he spent almost three months on the Rainbow Warrior and disembarked just three days before the bombing – his 1986 book Eyes Of Fire tells the story.
Dr Robie didn't always have aspirations to be a journalist. After graduating from high school he started working for the former New Zealand Forest Service whole embarking on a science degree.
A couple of years later he decided he wanted to write and quickly moved up the ranks, working for The Dominion, The New Zealand Herald, Melbourne Herald and Sunday Observer (where he was the editor).
He moved to Johannesburg in 1970 and was chief sub-editor at the former Rand Daily Mail.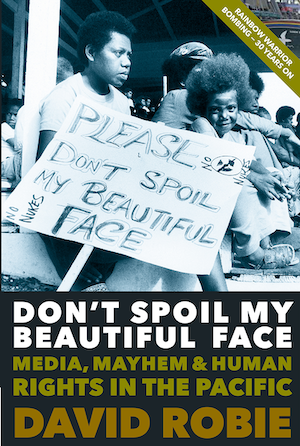 "The newspaper was totally opposed to apartheid and there were about 3000 banned people who you couldn't quote. Our tactic was to often run blank spaces so people knew stuff was being censored."
His next job was in Paris at the Agence France-Presse global news agency. That's where his interest in French policy in the Pacific really took hold.
Back in Auckland he worked at the Auckland Star as foreign editor and in 1981 he set up a Pacific media agency, which he ran for the next decade from his Grey Lynn home.
In 1993 he was appointed a lecturer at the University of Papua New Guinea and later shifted to the University of the South Pacific in Fiji.
Dr Robie joined the Auckland University of Technology in 2002 and started the Pacific Media Centre in 2007. He is also editor of the Pacific Journalism Review.
"We don't do enough to try to understand what's going on in the Pacific," he says.
"Fiji is a case in point. We don't really understand why it had coups and why many Fijians want something different from the colonial system that was set up when they country became independent."
Karina Abadia is a journalist for Stuff. This article was published at Stuff on 25 June 2014.