Pacific Scoop
The coveted AMIC Asia Communication Award has gone to a "Down Under" winner for the first time this year – 2015.
Professor David Robie, director of AUT University's Pacific Media Centre, was presented with the award at the just-concluded 24th Asian Media Information and Communication Centre (AMIC) conference in Dubai, United Arab Emirates.
AMIC board member Dr Pirongrong Ramasoota of Chulalongkorn University in Thailand said Dr Robie had been awarded one of two trophies for 2015 for his "unstinting contribution" as an Asia-Pacific journalist, media educator and "human rights and environmental champion".
She read out a citation about Dr Robie's work over more than two decades, saying he had made "outstanding contributions in all areas of the award categories — research, education, institution-building and excellence in journalism".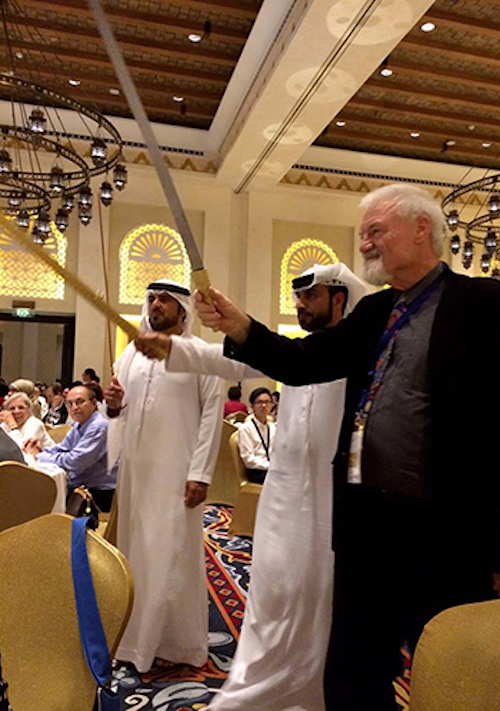 Dr Ramasoota mentioned a forthcoming book next month by Dr Robie, a fresh updated edition of his Eyes of Fire marking the 30th anniversary of the Rainbow Warrior bombing by French secret agents on 10 July 1985.
She also praised another recent book, Don't Spoil My Beautiful Face, which the citation described as a "tribute to human rights in the Pacific, capturing the struggles of the oppressed and the pivotal role that journalism can play to initiate positive change".
The other 2015 award winner was Dr Alan Hancock, a globally influential communicator, administrator and media development specialist from the United Kingdom.
Communication pioneer
One of the pioneers of modern communication development in Asia, Dr Hancock was based in Kuala Lumpur, Malaysia, as UNESCO's regional communication adviser for Asia in the 1960-70s and played a key role in planning the Asia-Pacific Institute for Broadcasting Development (AIDB).
He initiated many other UNESCO communication activities from Turkey to Japan and into the Pacific.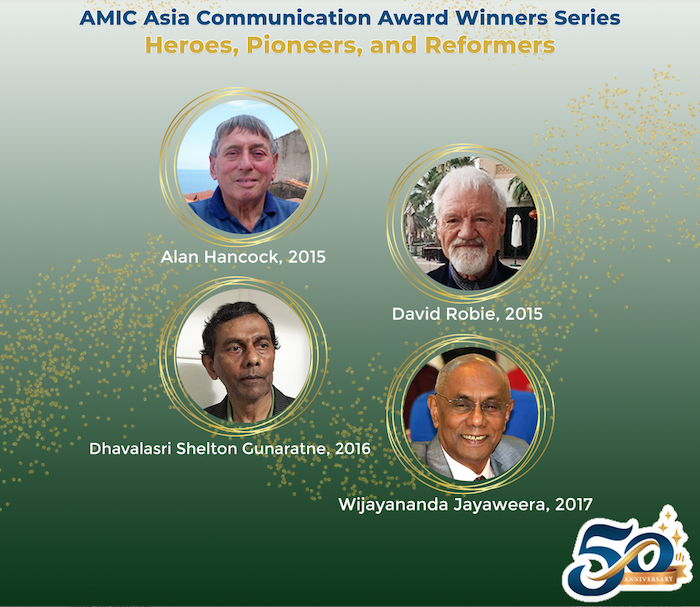 The 2014 award was made to Filipino journalist Juan L. Mercado for his "outstanding contributions and peerless leadership in Asian journalism and media development".
Jailed without charge during martial law in the Philippines in the 1970s, Mercado founded DEPTHnews media agency, the Philippine Press Institute and the Press Foundation of Asia.
This award could not be made last year because a military coup forced the cancellation of the AMIC conference due to be hosted in Thailand.
Both Dr Hancock and Mercado were unable to be in Dubai for the awards at a dinner at the Mina A'Salam resort hosted by the American University of Dubai.
The board of AMIC also made three special awards to a national government and two organisations, which had "given birth, nurtured and sustained" AMIC for its first 44 years of existence.
Special awards
Awards were made to the Singapore government and the Nanyang Technological University for their commitment and contribution to the hosting and development of AMIC, and also to the German political aid agency Friedrich Ebert Stiftung (FES) for its "achievements in ethical and democratic media and communication development" in the Asia-Pacific region.
Nominations for the awards are screened by a special AMIC jury and the final selection is made by the board. The AMIC secretariat is this year moving from Singapore to Manila where it will be hosted by the Philippine Women's University.
Chairman Arun Mahizhnan of Singapore stepped down as board chairman and his successor is veteran communication studies scholar and prolific author Dr Crispin Maslog of the Philippines, who was also winner of the 2011 Asia Communication Award.
AMIC's annual conference is expected to be held in Manila next year.
Source: Pacific Media Watch 9299