Book review and interview with the author David Robie by David Blackall
Introduction
David Robie's latest book is incisive and autobiographical. Kalafi Moala, a courageous publisher and pro-democracy campaigner in his own right, attests to this in the book's foreword. For many years, Moala was exiled by the kingdom of Tonga and was involved in the celebrated case of the 'Tongan Three' — he and his colleagues are the only people to have been jailed for 'contempt of Parliament' in the Pacific.
Informed by his articles and notes, this long-form narrative documents David Robie's journalism and educational work over 40 years. The book covers his vast experience in journalism, education and travel. He has worked in and travelled through Africa, worked for Agence France-Presse (AFP) in Paris in the 1970s, then in Australia and lastly, his specialty, in the Asia-Pacific region. David Robie is politically astute, promoting a journalism education that delivers peace and political independence in the Pacific region, freeing it of what he calls 'colonial legacy conflicts'. His environmental concerns and his striving for truth for Indigenous peoples create opportunities for public debate.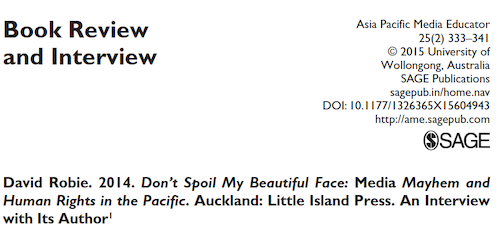 In 1979, he covered the French nuclear accident, which killed workers on Moruroa Atoll. 'The bunker was flushed out with a film of acetone, a solvent capable of absorbing plutonium, a deadly radioactive substance' (Robie, 2014, p. 47). Plutonium may be recovered using Sc-CO2 (supercritical carbon dioxide in a fluid state), and this is modified with acetyl acetone (Sujatha, Pitchaiah, Sivaraman, Srinivasan & Rao, 2012). Acetone is highly volatile, and when a 'six-man decontamination squad was sent into the bunker, and an electric drill switched on, an explosion killed one man instantly, another was crushed by a hurtling door and four others were badly burnt' (Robie, 2014, p. 47). These sorts of accidents, and the resultant pollution, are often absent from corporate news because the corporations responsible strive to keep them secret. Since the time of nuclear weapons testing in the Pacific, Robie has written about these tragedies and the ensuing deception by the US and French militaries. He has reported these events extensively, almost single-handedly, while immersed in the story. On one occasion, he was aboard Greenpeace's Rainbow Warrior when it rescued the Rongelap Atoll refugees after they were exposed to nuclear contamination.(1) Three days after returning to Auckland, after his 10-week voyage, French secret agents bombed the Rainbow Warrior on 10 July 1985. He was lucky not to be on board that night.
Edited transcript of interview with David Robie:
David Blackall (DB): In 1969, you were chief subeditor at the Sunday Observer in Melbourne, the first newspaper with a reasonably large circulation (100,000 plus) to 'campaign vigorously against Australian involvement' in the Vietnam War (Robie, 2014). The newspaper published a selection of photographs taken by Ronald L. Haeberle of the My Lai massacre in 1968:
Between 340 and 500 unarmed civilians were murdered in the hamlets of My Lai and My Khe of Son My village on 16 March that year by US Army soldiers of Charlie Company, 1st Battalion, 20th Infantry Regiment.
(Haeberle in Robie, 2014)
The Sunday Observer supplied Haeberle's photographs to the Australian Federal Parliament to help end the war. This was a brave act, David Robie, in standing up to a political correctness at the time in Australia; where there was a belief the war was justified. We find ourselves in a similar predicament today in many theatres of war throughout Africa and the Middle East (Epstein & Welch, 2012). As chief subeditor, you — and then editor Michael Cannon — decided to do something because you both understood it to be an issue of conscience.
…'journalism of attachment' proposes a form of journalism that 'cares as well as knows'. …this phenomenon is in opposition to the traditional model of what [is] coined
as 'by-stander journalism'. (Ruigrok, 2010)
Can you comment please, David?
David Robie (DR): Ironically, during the period that you are referring to, when I was chief subeditor, and shortly after editor, of the original Sunday Observer (it later became the Nation Review), I had been grappling with these very issues about journalism of accountability.
At the time I was 24 and already a metropolitan editor. I had had a reasonably conventional start to my journalism career, first with New Zealand's capital city morning newspaper The Dominion, then The New Zealand Herald, followed by the Melbourne Herald. Our chief Southeast Asian correspondent at the Observer was none other than Australia's enigmatic Wilfred Burchett who paid a high price for exposing the Hiroshima 'atomic plague' and reporting war from the 'other side' (Burchett & Shimmin, 2007). Burchett had to contend with the Cold War, being an Australian, and the mass ignorance about the Vietnam War (although one wonders whether we have learnt anything from history given our propensity to fall in with 'coalition of the willing' in Iraq, Afghanistan and now the 'Levant').
As you suggest, military photographer Ronald Haeberle's documentation of the My Lai atrocities was a form of journalism of accountability. You have cited Nel Ruigrok's paper, on journalism of accountability, rather than 'activism'. Although this paper is a compelling argument about activist journalism in Bosnia, Kosovo and in the 'embedded' invasion of Iraq, and it is particularly draws on examples in the Netherlands media, it is fairly applicable in a global context. There are many Pacific examples too, where activist journalism prejudges some situations and totally excludes others. A classic example of this is the shoddy Australian and New Zealand journalistic 'consensus' for the past six years on Fiji — a military regime after 2006, a dictatorship, or at least a military backed government.
There is plenty of evidence that the contemporary Indonesian atrocity in West Papua (perpetuated since paratroopers dropped into the one-time Dutch colony in 1962 and the so-called 'Act of Free Choice' in 1969 legitimised a sham). This is a non-story with virtually this same Australian and New Zealand journalistic 'consensus' committing editorial hypocrisy. The problem that I see in recent years is that the so-called 'journalism of activism' is most often deployed as an extension of power of the political elites, whether in Canberra or Wellington, or their ringmasters in Washington or Whitehall. 'Activism' and 'journalistic consensus' often revolves around the parliamentary press galleries and media political insiders, so devastatingly exposed by Nicky Hager in his Dirty Politics (2014). The political manipulation seems far easier these days with the massive public relations and political minder machinery at the disposal of governments.
As a journalist, and more recently as a media educator, I have tried to work outside that manipulated zone and seek a journalism of accountability and a synergy with those who suffer and [are] the victims uppermost in my mind. Much of my book provides case studies in the Asia-Pacific region from my personal experience, but the final sections also examine the critical development journalism, deliberative journalism (Romano, 2013), human rights journalism and also peace journalism models (Dixit, 2010; Freedman & Thussu, 2012). In some cases, I have developed strategies such as with the notion of Talanoa journalism (taking into account Indigenous cultural values for cross-cultural reporting) that I have applied to Fiji and other Pacific examples (Robie, 2013).
I have also argued for closer collaboration in the Pacific between journalists and non-government organisations because the latter often have the investigative or research skills missing in most smaller media groups.
The frame of peace journalism being developed by people such as Shaw, Lynch and Hackett (2011) is also rather intriguing and certainly applicable in an Asia-Pacific context. I have been drawn to some of these ideas in recent years as they provide a more robust framework for journalism of accountability when confronted with societies and media dominated by neoliberal discourses and infotainment.
In a world where the so-called 'war on terror' impacts so heavily on politics and media, 'violence-victory-oriented', 'propaganda-oriented' and 'elite-oriented' coverage (Lynch & Galtung, 2010) needs a counter-narrative. What is so often missing in journalism of accountability is context and interpretation. As Lynch and Galtung argue:
Media and journalists should be well enough organised to stand up for democracy against censorship and, in spite of censorship, try to get the story nonetheless. They should give a contextual background to understand the conflict. They should report the truth and suffering from all sides.
(2010, p. 94)
DB: Agreed. One only has to look to the Pacific, as you have shown, to see how the West ignores news that does not serve the desired outcomes for the hegemony of multinational corporations. As you say, another of the many Pacific-based stories that your book covers is that of West Papua, its troubles, particularly concentrated around the security required for the US-owned Freeport (McMoRan) mine near Grasberg, West Papua. It is the largest gold mine and the third largest copper mine in the world (Australian Council for Overseas Aid, 1995). For decades, allegations from reliable sources, like the global Free West Papua Campaign (FWPC), tell of torture, assassination and massacre.
The [Indonesian] military's reaction to security disturbances around resource projects was often indiscriminate. …given its vested interests in providing security to resource companies, rumours regularly emerged that the military were covertly triggering conflict as a pretext for demanding additional funds or justifying the maintenance of its role. (McGibbon, 2006)
West Papuans are under extraordinary levels of surveillance and are basically at war. I note you advocate on page 315 the concept of journalism education that includes peace studies and conflict sensitisation. There is an imperative for teaching non-corporate and sceptical peace journalism, as conducted by you over a lifetime, for journalists working independently, or with non-elite interests like Amnesty International and the global Free West Papua Campaign. Can you comment on this please?
DR: I try to instil in my students a strongly independent, but careful, stance and autonomy for their actions. This is a much easier approach as an independent or freelance journalist, which is probably why I was motivated as an independent for a decade in running my Pacific news agency out of my backyard, before moving into academic and campus-based independent journalism. However, it is easy to take this lofty stance from an armchair, but it is not easy for independents to make a living. They are always vulnerable without media organisation support. Negotiation and survival skills are part of the teaching mix. I would
really like to see universities step up to the mark and take more of a leading role in 'independent journalism'. The Conversation alliance between academics and journalists is already making its mark — a pointer in a small way to how things
could be different.
I have had many skirmishes as a journalist. One of these saw me arrested as an alleged spy and detained in New Caledonia by French soldiers for six hours (and handed over to the gendarmerie), and also arrested for photographing bogus voters under a corrupt proxy voting system (also in New Caledonia). I was also on the run from security forces in the Philippines because of my reportage on Indigenous Lumad activists that embarrassed corporate loggers and exploiters.
And I have reported in conflict zones without necessarily being in wartime frontlines. The experience tends to shape one's judgement and alertness to possible dangers. This in turn is very helpful for briefing students on dicey assignments — such as my team that covered the George Speight coup in Fiji, 19 May 2000.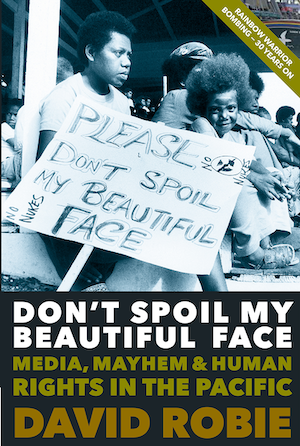 It depends on which side you are embedded, how the political struggles look. For example, during the height of the Kanak uprising for self-determination in New Caledonia in the mid-1980s, I did a series of pictures on both sides of the picket lines. On one side was the French CRS riot police, in a Kanak urban area in Nouméa's Montravel district. Another was from the Kanak side, looking out from the urban quarter at the foot of Montravel, where protesters faced the heavily armed French security forces. This was Indigenous land and the Kanaks were the First Nations people. The difference between the two worlds was dramatic. Too often, the media are safely embedded with the forces of control, and don't necessarily get to see the world from the other perspective of the desperate ordinary people.
The global West Papua Campaign and Amnesty International are both effective in raising issues that are being lost from public consciousness. Benny Wenda and the West Papua Campaign can be thanked for bringing back the West Papua human rights to the negotiation table — Benny made a huge impression a couple of years ago when visiting New Zealand and the Parliament made the inexplicably stupid decision to ban him from making a statement. This immediately put the West Papua cause in the spotlight. Prior to that, most journalists never gave a damn. This coupled with the tremendous media-savvy tactics of Benny — always wearing a traditional Highlands headdress, for example — meant that he was visually appealing as a political player.
Conclusion
Media Mayhem demonstrates that the best journalism education derives from the first-hand independent journalism experience, travelling and learning to survive, applying diplomatic skills and resources rather than attempting to rely on confrontation. As journalism educators, we must therefore ask ourselves, how do we best introduce this concept in times of extremist propaganda?
The New York Times's journalist Judith Miller won a Pulitzer Prize for her inaccurate series of features in 2003 about weapons of mass destruction in Iraq, which were non-existent. Her stories assisted the US and the UK case for war (Boyd-Barrett, 2010). In Media Mayhem, David Robie delineates differences between peace and war journalism. He shows the distinction between corporate media like The New York Times and independent news agencies that work for peace. Noam Chomsky's 1988 five-filter propaganda model provides tools for using scepticism to identify areas where researchers and journalists can look for evidence of collaboration (whether intentional or otherwise) between corporate media and the propaganda aims of the ruling establishment. The controversy surrounding Miller in particular 'helped elicit evidence of the operation of some filters of the propaganda model, including dependence on official sources, fear of flak, and ideological convergence' (Boyd-Barrett, 2010).
On the negative side, Media Mayhem occasionally lacks flow and meanders into asides, a characteristic of French journalism, and one that makes it difficult to read. Perhaps this lack of flow is due to the author's French connections. Occasionally, there are annoying typographical errors. One, for instance, on page 39, has the Black Mountain Pass in Lesotho at 16 metres elevation! That pass is at least 2,876 metres above sea level, depending on the point of reference. Despite this, Media Mayhem conveys a passionate commitment to journalistic activism and to something more important — accountability. A sample of the
book's chapter headings testifies to this commitment: 'Indigenous struggles', 'Forgotten wars, elusive peace' and 'Moruroa, mon amour'.
As Rosen says, 'journalism can in certain cases intervene in the service of broad public values without compromising its integrity' but needs proactive neutrality (1996, p. 13). However, despite (or perhaps because of) Robie's commitment to neutrality, Media Mayhem lacks colour and detail, important in an autobiographical work to hold the reader's attention (Conway & Pleydell-Pearce, 2000). For me, this was a lost opportunity to express himself and describe journalistic culture, in the context of a career of incisive, alternative and sceptical journalism that, as journalism educators, we must advocate.
Robie's unique and committed examinations of the vast and secret histories, ignored by corporate news, are essential reading, if only for utilitarian purposes. However, narrative theory suggests that he may have improved Media Mayhem by using the techniques of fiction writing, in particular dialogue and descriptive prose. Perhaps it is his discipline in left-wing reformist public journalism that positions his storytelling, through his referencing, ordering and framing, and this requires a degree of neutrality for veracity purposes (Woodstock, 2002).
In addition, despite its author's career being devoted to exposing nuclear contamination and the corruption that enables it, Media Mayhem makes no mention of the ongoing and serious nuclear contamination of the Northern Pacific by Fukushima's Daiichi Nuclear Power Plant (FNPP). This occurred after the massive earthquake and tsunami of 11 March 2011: '. . . large amounts of water contaminated with radionuclides, including Cesium-137, were released into the Pacific Ocean. With a half-life of 30.1 years, Cs-137 has the potential to travel large distances within the ocean' (Rossi, Van Sebille, Sen Gupta, Garçon & England, 2013). Contaminated water in 2013 reached the US coastline, where radioactive iodine levels were up 200-fold. Signature FNPP caesium-137 is now in mushrooms and berries around the world; bird deaths have risen, while, in Alaska, sockeye salmon populations are declining (Corley, 2013).
Exposure to radiation dramatically increases the probability of cancers such as leukaemia and thyroid cancer (Mangano & Sherman, 2013). Some of the crew of the USS Ronald Reagan, anchored near the FNPP meltdown, are now blind and have developed cancers. The crew is filing a lawsuit against the nuclear power company TEPCO (Burke, 2014). 'Cesium-137 (137Cs) with a half-life of 30.1 years causes the greatest concern because of its deleterious effect on agriculture and stock farming, and, thus, human life for decades (Yasunaria, Hayanoc, Burkhartb'd, Eckhardtb & Yasunarie, 2011). 'Numerical simulation results show that the higher caesium, observed in the western North Pacific one month after the FNPP-AC, was transported not only by diffusion and advection of seawater but also via the atmosphere as an aerosol' (Honda, Aono, Aoyama, Hamajima, Kawakami, Kitamura, Masumoto, Miyazawa, Takigawa & Saino, 2012). Dr Helen Caldicott (2014) adapted/compiled Crisis Without End: The Medical and Ecological Consequences of the Fukushima Nuclear Catastrophe. The book was adapted from a symposium, in 2013: The Medical and Ecological Consequences of Fukushima, held at the New York Academy of
Medicine in 2013.
Despite these shortcomings, Media Mayhem is a detailed and wonderful account of important and overlooked events and issues in the news media, and so it outlines the imperatives for journalism education, which provide learning opportunities to skill journalists in resisting political and corporate agendas. Students must learn to use independent sources that reflect unbiased realities, rather than simply following the well-trodden corporate news media paths.
Note
1. Since this interview, Dr David Robie has republished Eyes of Fire, marking the 30th anniversary of the bombing of the Greenpeace environmental flagship Rainbow Warrior on 10 July 1985. Dr Robie, some 40 student journalists at AUT University and Little Island Press collaborated in publishing an independent Eyes of Fire: 30 Years On , a microsite
with more than 20 video stories and interviews published in the public interest.
References
Australian Council for Overseas Aid (ACFOA) (1995). Trouble at Freeport: Eyewitness
accounts of West Papuan resistance to the Freeport–McMoran mine in Irian Jaya,
Indonesia and Indonesian military repression June 1994–February 1995. Canberra:
ACFOA.
Boyd-Barrett, O. (2010). Judith Miller, The New York Times, and the propaganda model.
Journalism Studies, 5(4), 2004.
Burchett, G., & Shimmin, N. (2007). Rebel journalism: The writings of Wilfred Burchett.
Melbourne, Vic.: Cambridge University Press.
Burke, M. (2014). Judge: Sailors' class-action suit can proceed over alleged radiation
exposure. Stars and Stripes. Retrieved 5 July 2015, from http://www.stripes.com/news/
judge-sailors-class-action-suit-can-proceed-over-alleged-radiation-exposure-1.311088
Caldicott, H. (Ed.) (2014). Crisis without end: The medical and ecological consequences
of the Fukushima nuclear catastrophe. New York: The New Press.
Conway, M.A., & Pleydell-Pearce, C.W. (2000). The construction of autobiographical
memories in the self-memory system. Psychological Review, 107(2), 261–288.
Corley, M. (2013). Fukushima radiation hits US west coast. Guardian Liberty Voice.
Retrieved from http://guardianlv.com/2013/12/fukushima-radiation-hits-us-west-coast/
#WzQGxiEsaIW1c5Oy.99 (accessed on 28 September 2015)
Dixit, K. (2010). Dateline earth: As if the planet mattered (2nd ed.). Bangkok, Thailand:
IPS Asia Pacific.
Epstein, R., & Welch, D. (2012). Secret SAS teams hunt for terrorists. Sydney Morning
Herald. Retrieved 5 July 2015, from http://www.smh.com.au/national/secret-sasteams-
hunt-for-terrorists-20120312-1uwhy.html
Freedman, D., & Thussu, D.K. (2012). Media and terrorism: Global perspectives. London:
Sage.
Hager, N. (2014). Dirty politics: How attack politics is poisoning New Zealand's political
environment. Port Nelson, New Zealand:Craig Potton Publishing.
Honda, M.C., Aono, T., Aoyama, M., Hamajima, Y., Kawakami, H., Kitamura, M., et al.
(2012). Dispersion of artificial caesium-134 and -137 in the western North Pacific
one month after the Fukushima accident. Retrieved from http://www.terrapub.co.jp/
journals/GJ/pdf/2012e/460100e1.pdf (accessed on 28 September 2015)
Lynch, J., & Galtung, J. (2010). Reporting conflict: New directions in peace journalism.
St Lucia, Qld.: Queensland University Press.
McGibbon, R. (2006). Pitfalls of Papua – Understanding the conflict and its place in
Australia–Indonesia relations. Lowy Institute Paper Nr. 13. Retrieved from http://
www.lowyinstitute.org/publications/pitfalls-papua-understanding-conflict-and-itsplace-
australia-indonesia-relations (accessed on 28 september 2015)
Mangano, J.J., & Sherman, J.D. (2013). Elevated airborne beta levels in Pacific/West Coast
US States and trends in hypothyroidism among newborns after the Fukushima nuclear
meltdown. Open Journal of Pediatrics, 3(1), 1–9.
Robie, D. (2013). The talanoa and the tribal paradigm: Reflections on cross-cultural
reporting in the Pacific. Australian Journalism Review, 35(1), 43–58. Retrieved from
http://search.informit.com.au/documentSummary;dn=505272837623485;res=IEL
LCC (accessed on 28 september 2015)
Robie, D. (2014). Don't spoil my beautiful face. Media mayhem & human rights in the
Pacific. Auckland, New Zealand: Little Island Press.
Romano, A. (Ed.) (2013). International journalism and democracy: Civic engagement
models from around the world (2nd ed.). London: Routledge.
Rosen, J. (1996). Getting the connections right: Public journalism and the troubles in the
press. Hillsdale, NJ: Erlbaum.
Rossi, V., Van Sebille, E., Sen Gupta, A., Garçon, V., & England, M.H. (2013). Multidecadal
projections of surface and interior pathways of the Fukushima cesium-137
radioactive plume. Deep Sea Research Part I: Oceanographic Research Papers, 93,
162–164.
Ruigrok, N. (2010). From journalism of activism towards journalism of accountability.
The International Communication Gazette, 72(1), 85–90. Retrieved from www.
arifyildirim.com/ilt510/nel.ruigrok.pdf (accessed on 28 september 2015)
Shaw, I.S., Lynch, J., & Hackett, R.A. (2011). Expanding peace journalism: Comparative
and critical approaches. Sydney, NSW: Sydney University Press.
Sujatha, K., Pitchaiah, K.C., Sivaraman, N., Srinivasan, T.G., & Rao, P.R.R.V. (2012).
Recovery of uranium and plutonium from waste matrices using supercritical fluid
extraction. Kalpakkam, India: Chemistry Group, Indira Gandhi Centre for Atomic
Research. Retrieved from http://file.scirp.org/Html/8-2200474_26153.htm (accessed
on 28 September 2015)
Yasunaria, A.S., Hayanoc, R.S., Burkhartb'd, J.F., Eckhardtb, S., & Yasunarie, T. (2011).
Cesium-137 deposition and contamination of Japanese soils due to the Fukushima
nuclear accident. In James E. Hansen (Ed.), Cesium-137 deposition and contamination
of Japanese soils due to the Fukushima nuclear accident. New York, NY: Goddard
Institute for Space Studies.
Woodstock, L. (2002). Public journalism's talking cure: An analysis of the movement's
'problem' and 'solution' narratives (Vol. 3(1), pp. 37–55). Annenberg School for
Communication, University of Pennsylvania. London, Thousand Oaks, CA and New
Delhi: SAGE Publications [1464-8849(200204)3:1; 37–55; 021539].
Author's bio-sketch:
Dr David Blackall is a senior lecturer at the University of Wollongong, NSW, Australia. He is a documentary filmmaker and also produces television material for current affairs programmes like ABC 7.30. He conducts research in ethical and legal areas; his recent academic publications overlapping and complimenting his television investigation of the Trio Capital fraud in Australia. This article is republished from Asia Pacific Media Educator.