By David Robie, founding editor of Pacific Journalism Review

In November 2020, when Joe Biden finally ushered in his presidency pledges amid the narrow triumph in the swing state of Pennsylvania, he wasted no time in adding to his modest twitter output, just like his predecessor Donald Trump.
Three days earlier, the President-elect had fired off a tweet to renew a promise that the United States would rejoin the 2015 Paris Agreement, marking the end of a four-year assault on climate protections under Trump's leadership.
Ironically, the tweet was on the very day that the Trump Administration officially abandoned the Paris Climate Accord (Farand & Gerretsen, 2020).
"And in exactly 77 days," he tweeted, "a Biden administration will rejoin it."
The Paris Agreement requires all countries to present new or improved climate targets to the UN. As the world's second highest greenhouse gases emitter (after China), the US is critical to meeting the Paris of limiting the global heating "well below 2degC " and to target even lower to 1.5degC.
Elected on the most ambitious climate platform ever presented by a presidential candidate (and gaining more than 77 million votes, the most ever), Biden pledged a US$2 trillion "clean air revolution". The journey ahead will be rocky and frustrating. The remnants of Trumpism and an obstructive outgoing administration will provide many barriers.
This journal, Pacific Journalism Review, is producing its third edition based on climate change (albeit complicated by the coronavirus pandemic) following the "Climate change in Asia-Pacific" special edition produced in mid-2017 and the "Disasters, cyclones and communication" issue in mid-2018.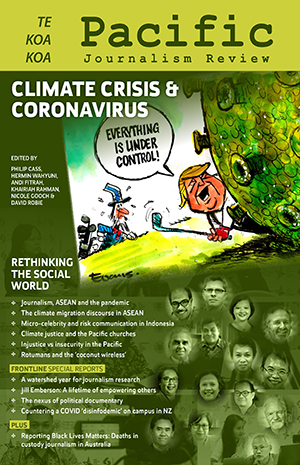 It has a strong commitment to human rights and environmental studies in a media and journalism context.
However, the current climate and health challenges are being addressed against the backdrop of a so-called post-truth world that is playing out in the Asia-Pacific region as critically as elsewhere, including the US.
Issues of conspiracy theories, disinformation and hoaxes had such an impact on the fringes of the New Zealand election in October that commentators such as RNZ Mediawatch's Colin Peacock were driven to ask: "Should we fear fake news in our politics?"
Based on the experience of the US elections in 2016 and beyond and the Brexit debacle and an avalanche of "fake news" in later ballots in Australia, France and other countries, concerns were high. As it turned out, "fears that foreign political consultants and fringe parties would turn Facebook followers and fake news in the [New Zealand] election proved unfounded" (Peacock, 2020).
However, while New Zealand's major parties also "mostly ran a clean game online", Peacock pointed to the online misinformation that was mostly about COVID-19 and to New Zealand research linked to the Digital Election Campaigning Worldwide project with warnings about the future risks.
Four years in the White House by a president globally regarded as a serial liar has "accelerated the drift towards post-truth, and the media is shackled to that acceleration", writes Guardian political editor Katharine Murphy, who has raised critical questions about the role and responsibilities of journalists and journalism when dealing with fact-checking and known untruths.
In response to major networks pulling the plug on a presidential "florid fantasy" about fake votes and fake polls in the wake of the US election, she had this to say:
"Faced with this reality—a lying, dangerous demagogue openly hostile to political conventions and democratic norms—media outlets face difficult choices. Do networks refuse to broadcast the lies? Do media outlets disrupt the tirades with live fact-checking? Broadcast the news (and a president speaking meets the news test) without interruption, but put straps at the bottom of the screen alerting viewers to form their own conclusions?" (Murphy, 2020)
As she says, "puncturing self-serving propaganda" is the primary duty of serious journalists.
Over the past 26 years, Pacific Journalism Review has done its fair share of "puncturing" and bringing critical issues before our media fraternity, both through more than 1000 research articles published, and its range of critical reviews and actual journalism (especially through our "Frontline" section pioneered by Wendy Bacon).
Founded at the University of Papua New Guinea in 1994, the journal has also had a five-year stint at the University of the South Pacific, but its longest home has been 18 years at Auckland University of Technology.
In the wake of our 20th anniversary celebration at AUT six years ago, colleague and friend Lee Duffield wrote a reflective article for our birthday edition in which he concluded that PJR had always emphasised its "regional identity". PJR has been, he added, dedicated to:
"Adopting its own 'Pacific' style of discourse and inquiry, [f]or 20 years it has been focused on Pacific issues, for and by people and institutions of the region—while always open to linkages and inputs from major global centres." (Duffield, 2015).

The Life of Pacific Journalism Review.                   Video: Sasya Wreksono
As this has been a transitional and final edition for me as founding editor at the helm and in the "frontline", it is an opportunity to thank and acknowledge many people who have contributed and shared with me on this waka voyage. Some of them are featured in a 2014 birthday cartoon by Malcolm Evans — at the head of this article — and others have joined since or been involved earlier.
First, Philip Cass, who is taking over as editor. I am delighted that Philip is taking on this challenge as he was with us as a wantok from Wewak, Papua New Guinea, contributing right from the beginning in Port Moresby. He has also been a dedicated and voluntary reviews editor and associate editor for the past seven years.
Del Abcede has been the designer since the embryonic Pacific Media Centre was launched in 2007 and took over as the publishing "umbrella" from AUT's School of Communication Studies. She has carried the burden and stress of hours and nights of endless layouts to meet the never-ending deadlines.
A tribute to mentors Wendy Bacon, Chris Nash, Trevor Cullen, Mark Pearson, Pat Craddock, Lee Duffield and Shailendra Singh. They are all in the cartoon. So too are Campion Ohasio, Ben Bohane, Allison Oosterman, John Miller, Tui O'Sullivan, Kevin Upton, Barry King and cartoonist Evans is riding a dolphin.
Not pictured in the cartoon are others who have contributed in various editorial roles such as Khairiah A. Rahman, Peter Cronau, Nicole Gooch, Camille Nakhid, Heather Devere, Jim Marbrook, Joseph Fernandez, Evangelia Papoutsaki, Susan O'Rourke Alan Samson, Murray Horton, Linnea Eltés, Eric Loo, Ian Richards, John Henningham, Martin Hadlow, Sandra Kailahi, Alex Wake, Kayt Davies, James Hollings, Danilo Arao, Sasya Wreksono, Kalafi Moala, Crispin Maslog, Ramon Tuazon, Daya Kishan Thussu, Fernando Sepe Jr, Mariquit Almario-Gonzales, Belinda Lopez, Johnny Blades, Ian Stuart, Alex Perrottet, Sitiveni Ratuva, Faith Valencia-Forrester, Kasun Ubayasiri, Alan Robson, Angela Romano, Katheryn Bowd, Hermin Indah Wahyuni, Andi Fitrah, Vissia Ita Yulianto, Victor Mambor, Scott MacWilliam, Tony Clear, and also our manager Edelita Clark.
Plus our Tuwhera digital support team Luqman Hayes and Donna Coventry. Thank you all (and anybody I have inadvertently overlooked) for the contribution over the years, as a journal like this relies on considerable teamwork and an enormous amount of voluntary input.
Part of the Pacific Journalism Review story has been told in a YouTube video by AUT screen production graduate Sasya Wreksono (2014), who interviewed several of our contributors and editors on both sides of the Tasman.
At the time of our 20th anniversary, I wrote what I will echo today in that over our more than two decades "we have achieved precisely what we set out to do, being a critical conscience of Asia-Pacific socio-political and development dilemmas".
Tenk yu tumas … lukim yu, Philip, and good luck to you and your future crew
for the media waka journey ahead.
This is an extract from the final editorial of founding editor David Robie's 26 years at the helm of Pacific Journalism Review. The full editorial can be read at the PJR website here. since this edition was published, PJR has continued as an independent NGO, Asia Pacific Media Network.

References
Duffield, L. (2015). Pacific Journalism Review: Twenty years on the front line of regional identity and freedom. Pacific Journalism Review: Te Koakoa, 21(1), 18-33. https://doi.org/10.24135/pjr.v21i1.145
Farand, C., & Gerretsen, I. (2020, November 7). Joe Biden wins the White House, in
pivotal moment for global climate action. Climate Change News. https://www.climatechangenews.com/2020/11/07/joe-biden-wins-white-house-pivotal-moment-global-climate-action/
Peacock, C. (2020, October 25). Should we fear fake news in our politics? RNZ Mediawatch. https://www.rnz.co.nz/national/programmes/media-watch/audio/2018769801/should-we-fear-fake-news-in-our-politics
Robie, D. (2015). EDITORIAL: Two decades of critical inquiry. Pacific Journalism Review: Te Koakoa, 21(1), 7-14. https://doi.org/10.24135/pjr.v21i1.143
Wreksono, S. (2014). The life of Pacific Journalism Review [Short documentary]. Available at https://www.youtube.com/watch?v=Brq_AgBS-ys