At least 2500 people have been displaced by Cyclone Gabrielle this week, says Emergency Management Minister Kieran McAnulty.
About 1000 of those are in the Far North and another 1000 in Hawke's Bay. The rest are mostly from Auckland, with some also in Bay of Plenty and Waikato.
But little is known about the situation in the east, with communications minimal and access hampered due to continued high winds and rain.
Hawke's Bay Civil Defence said a women had died in Putorino, after a bank collapsed onto her home.
Wairoa is of particular concern, with the National Emergency Management Agency (NEMA) "working very hard" to find out what is happening in the northern Hawke's Bay region.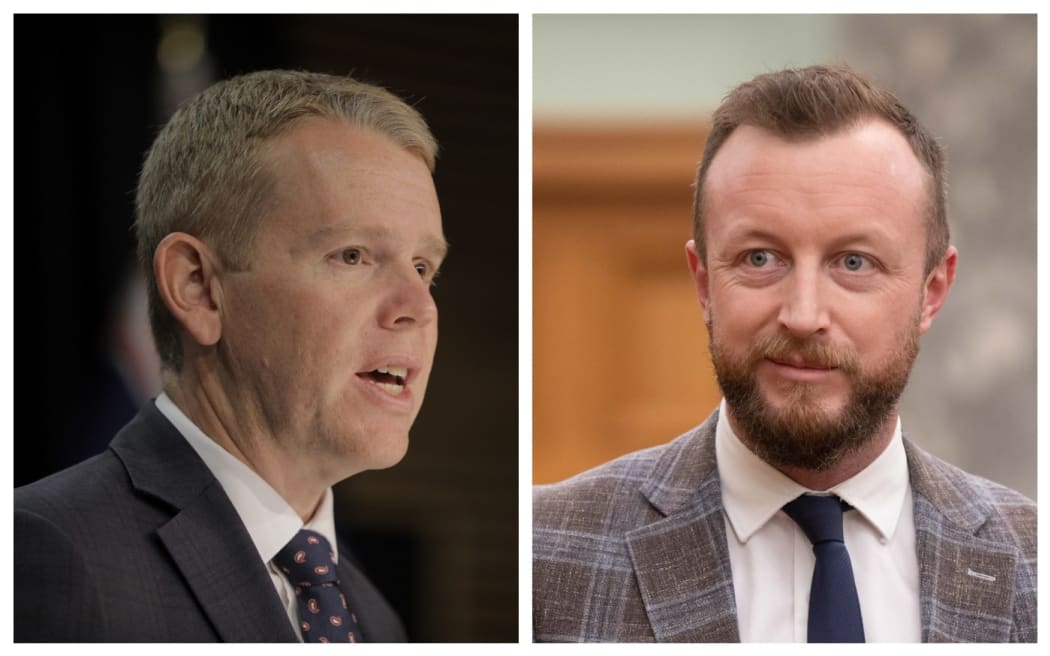 Prime Minister Chris Hipkins, speaking to media yesterday with McAnulty, said the Telecommunications Emergency Forum "has been activated and is working closely with NEMA and local Civil Defence organisations".
"The first priority… remains the restoration of regional cellphone signals. High winds and ongoing poor weather is hampering progress in that area."
There has also been a fibre cut affecting Taupō, Hastings and Napier and other areas.
'Completely isolated' Wairoa only has one day's food, Civil Defence says https://t.co/UBjWe4suda

— RNZ News (@rnz_news) February 14, 2023
Comparisons to Cyclone Bola
Hipkins called Cyclone Gabrielle the most significant weather event in New Zealand so far this century.
"The severity and the breadth of damage we are seeing has not been seen in a generation."
Asked how it compared to 1988's destructive Cyclone Bola, Hipkins said he "wasn't around in this kind of role" then so could not immediately compare the two. Officials were still building a picture of the impact of the cyclone, he said.
"In the last 24 hours or so, Fire and Emergency New Zealand have 1842 incidents related to Cyclone Gabrielle in their system . . . Two-hundred defence force personnel have so far been deployed and there are more on standby."
Transpower had announced a national grid emergency, following the loss of power to the Hawke's Bay and Gisborne, with potential for extended periods of outages, Hipkins said.
"This is a very significant event for the electricity network and the companies have not seen this level of damage since Cyclone Bola . . .
"The situation is changing rapidly and the lines companies are expecting more customers to be affected. They are working to restore power as quickly as possible… but restoration in some parts may have to wait until weather conditions improve."
Many supermarkets in Northland have been affected and closed. People were asked to only buy what they needed, Hipkins said, urging people to avoid non-essential travel. If it was unavoidable, people should let friends and family know where they were going, he added.
"A high number of roads have been affected by surface flooding and by slips."
The latest available information is on the Waka Kotahi website, which remained the best source of information for anyone having to travel, Hipkins said.
"On behalf of all New Zealanders I want to extend all of our gratitude to our emergency responders. They are putting in the hard yards and their lives are on the line in the service of their communities.
"To the families of the volunteer firefighters who responded to events in Muriwai last night and to the wider Fire and Emergency New Zealand family, our thoughts and hopes are with all of you."
"To the men and women of the Defence Force, the linemen and women, the communication companies, the supermarkets, the transport companies getting goods to where they are needed, the roading crews that are making that all possible, thank you to you also."
Danger remains
The good news is the weather is expected to ease overnight, Hipkins said. But that did not mean the danger would ease as quickly.
"People should still expect some bad weather overnight, particularly on the East Coast . . .  as we know from experience over the last few weeks, even if the rainfall eases off a bit, more rainfall can compound on top of the rainfall that we've already seen.
"So when it comes to slips and so on, we could still see more of that even as the weather starts to ease. We're still in for a bumpy time ahead."
The prime minister declined to put a figure on what the recovery might cost, but said insurance companies would cover a "significant portion".
"People will pick numbers out of thin air and they may be right or they may be wrong. It's really too early to put an exact number on it."
He said it could impact on already fast-rising food prices, and would not rule out seeking international assistance.
Some farmers' land has been damaged not just by the flooding, but forestry waste known as "slash".
Hipkins said something would definitely need to be done to lessen the risk of slash destruction in the future.
Climate change's contribution
As for climate change's impact on the sheer scale of the storm, Hipkins rejected a suggestion that his actions since taking over as Prime Minister have weakened New Zealand's efforts towards reducing emissions.
As a part of his policy reset, Hipkins canned a planned biofuels mandate and extended subsidies for fuel, a major contributor to warming.
"There is significant debate about whether the biofuels mandate was the right way of reducing our emissions from transport, when there are the other alternatives and other things that we can look at," he explained.
"In terms of extending the fuel subsidies, we have to acknowledge that actually, there are people still having to get in their cars every day to drive to work, and we need to support them through what is a very, very difficult time at the moment.
"That does not in any way — I don't believe — undermine our commitment to tackling the causes of climate change."
He said Gabrielle's impact would have "underscored" the need to keep reducing emissions.
"It is real, it is having an impact and we have a responsibility to do something about it."
This article is republished under a community partnership agreement with RNZ.
Cyclone Gabrielle: Rural Hawke's Bay residents scramble onto roofs to avoid flooding https://t.co/7qEDU7dSkh

— RNZ News (@rnz_news) February 14, 2023