By Geraldine Panapasa in Suva
The University of the South Pacific's vice-chancellor and president, Professor Pal Ahluwalia, was given a rousing welcome at Nadi International Airport today returning to Fiji from exile.
He returned two years after he and wife Sandra Price were detained and deported by the former FijiFirst government for allegedly breaching provisions of the Immigration Act.
"We have arrived in Nadi. What a fabulous reception. USP staff, students and so many well wishers to meet us fills out hearts with joy. Beautiful singing and prayer. Thank you Fiji," he wrote on Twitter, as the couple were received by USP deputy vice-chancellors and vice-presidents, Professor Jito Vanualailai and Dr Giulio Paunga.
USP Council Secretariat representative Totivi Bokini-Ratu, Lautoka campus director Pramila Devi, and representatives from the USP Students Association, USP Staff Association and Association of the USP Staff were also at the airport to greet Professor Ahluwalia.
"I'm so humbled to see everyone. It is an absolute joy to be back and an opportunity for us to continue serving USP," he said in a statement.
We have arrived in Nadi. What a fabulous reception. USP Staff, Students and so many well wishers to meet us fills our hearts with joy. Beautiful singing and prayers. Thank you Fiji.

— Professor Pal Ahluwalia, USP VC (@pal_vcp) February 9, 2023
"The support from staff, students and regional governments has just been incredible.
"It was so beautiful to see how much our staff fought. The fight wasn't just for me; it was for a bigger cause and I'm just a catalyst for the bigger change they wanted to see."
Next step for students
Professor Ahluwalia said the next step was to work with his senior management team to ensure they got the best out of their students and the region.
He is expected to visit the USP Pacific TAFE Centre in Namaka and Lautoka campus today with other events and meetings scheduled for the coming week, including a launch of the Alumni Relationship Management Service, and the welcoming of international students.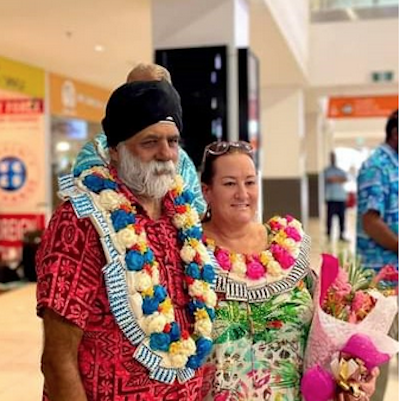 Professor Ahluwalia and his wife's controversial exile from Fiji followed months of increased tensions between USP and the previous government over allegations of financial mismanagement and corruption.
With the new People's Alliance-led coalition government in power after ousting the FijiFirst administration in the 2022 general election, Prime Minister Sitiveni Rabuka has vowed to right the wrongs of the past administration.
Last December, he declared that Professor Ahluwalia and Dr Padma Lal, widow of another exiled academic, the late Professor Brij Lal, were free to enter the country.
"I am ready to meet Dr Lal and Professor Ahluwalia personally. I will apologise on behalf of the people of Fiji for the way they were treated," Rabuka had said.
Working from Samoa
He said prohibition orders against Professor Ahluwalia, Dr Lal and the late Professor Lal, were "unreasonable and inhumane", and "should never have been made".
Professor Ahluwalia has been working out of USP's Samoa campus since 2021, and said he looked forward to working with the coalition government to strengthen the relationship between USP and Fiji.
"As a regional institution, USP will continue to serve its island countries — particularly Fiji — and work hard to shape Pacific futures," Professor Ahluwalia said.
Meanwhile, USP and the Fijian government are expected to conduct a joint traditional welcome ceremony for Professor Ahluwalia, followed by a thanksgiving service at the Japan-Pacific ICT Multipurpose Theatre, Laucala campus next Tuesday.
Geraldine Panapasa is editor-in-chief of the University of the South Pacific's newspaper and website Wansolwara News. Republished in collaboration with the USP journalism programme.