New Caledonia's only daily newspaper, Les Nouvelles Calédoniennes, has folded after the commercial court accepted the publishing company's request for its liquidation.
The court had deferred its decision by a day after an injunction by the public prosecutor who wanted to see if there was still a possibility to rescue Les Nouvelles.
The prosecutor had argued that it was worth preserving Les Nouvelles as a tool of pluralism and freedom of expression.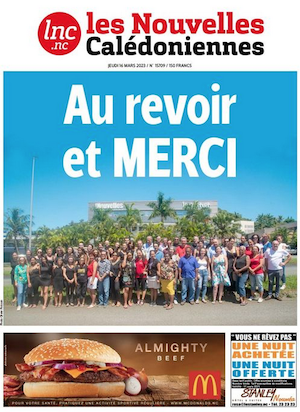 However, there has been no interest in taking over the loss making enterprise.
The paper was launched in 1971 and owned by the French Hersant group until 2013 when it was sold to New Caledonia's Melchior Group.
Faced with losses, the newspaper became an online only publication at the end of last year but has now closed, with more than 100 people losing their jobs.
The last edition of Les Nouvelles Calédoniennes appeared on 16 March 2023.
This article is republished under a community partnership agreement with RNZ.