By Sri Krishnamurthi
Highly respected and convivial Koroi Hawkins has become RNZ Pacific's first Melanesian editor after arriving in New Zealand in 2014 and says he is "truly humbled" after nearly a decade at RNZ.
"It is a great honour. I am a Pacific journalist from the school of hard knocks so it was already a massive achievement just making it into the RNZ Pacific team," Hawkins tells Asia Pacific Report.
"Never in a million years did I imagine I could ever become the editor when I arrived here. It is testament to all of the support and mentoring I have received here at RNZ Pacific that I was even confident to put my hand up," he says humbly.
But what made RNZ Pacific's manager Moera Tuilaepa-Taylor choose Hawkins for the role of editor in the first place?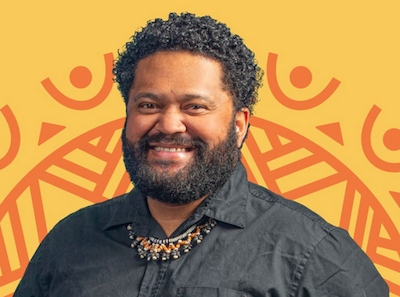 The deciding factor was RNZ Pacific's flagship daily current affairs programme Pacific Waves that delves into issues of Pacific peoples wherever they are in the world, and airs proudly and loudly across Pacific at 8pm (NZT) every weeknight, she says.
"Koroi's time as producer and presenter of Pacific Waves has allowed him to develop his leadership and mentoring skills within the team, in particular with some of our younger reporters who had never worked in radio," Tuilaepa-Taylor said.
"There's respect and trust in his leadership and skills by the team, and that's when we knew that he was the right candidate for the role. He had the right cultural attributes," she said.
Science aspirations
However, Tuilaepa-Taylor was not the manager who hired Hawkins in the first place. Instead, it was former RNZ Pacific manager Linden Clark and ex-news editor Walter Zweifel who brought him to RNZ Pacific.
Ironically, Hawkins never wanted to be journalist originally — he studied science in high school.
"I never aspired to be a journalist. I was a science student through high school and wanted to be a marine biologist," he said.
"But, I had a keen love for storytelling thanks to my mum Effie Hawkins, who is a retired early childhood teacher and who would always read me books.
"When I was old enough she encouraged me to read and to write letters to our family members overseas.
"I think that is when I realised as a working journalist that we could give a voice to the voiceless and hold those in power to account. That is when I found my passion for the craft," says Hawkins.
Hawkins started working as a journalist in the Solomon Islands under the tutelage and guidance of Solomon's legendary journalist Dorothy Wickham.
Start-up TV in Honiara
"I started as a news presenter for local start-up TV outfit One Television Solomon Islands under Dorothy Wickham.
"I was on holiday in Malaita with my wife and our newly born daughter Janelle and I wrote a small sport story on a futsal tournament at Aligegeo which was well received by the news department — and the rest is history they say.
He developed photography and videography skills for which is renowned for whenever on assignment covering events in the Pacific.
"I started with RNZ Pacific as an intermediate reporter. I brought with me photography and videography skills which I mostly used on reporting assignments in the region," he says matter-of-factly as if it were nothing.
However, that wasn't the only skill he mastered. When I worked with him he was adept and very helpful when doing digital web stories, knowing where the photo goes and how to web edit.
He was also very helpful to the younger reporters when it came to mastering audio for radio.
The one thing you notice about Hawkins when you meet him is a sense of calming presence about him when all else would be chaos around. That was the case in 2018 covering the Fiji elections, especially when covering about-to-become PM Sitiveni Rabuka's court case just two days before the election.
'Calmness from my mother'
"My calmness comes from my mother, she was always calm in a crisis and it also comes from operating in our Pacific newsroom situations where when things go wrong they are literally operation halting things like cyclones, power cuts and equipment breakdowns, riots, and coups," he says.
"Things over which we have no control and just have to work around."
"By comparison, the crises in New Zealand newsrooms are relatively manageable. I think also it must be an age thing, as I grow older both at home and at work I find myself always seeing solutions rather seeing obstacles.
"Some of it just comes with experience and I am always open to learning new things and trying new ways of doing things better than we did in the past."
He rates his career highlight was when while calling his mum and dad in the Solomon Islands they told him they had heard him on air.
"I think the two main highlights in my career is calling my mum and dad in Munda and them telling me they heard me on the radio.
"And bringing my family out here to New Zealand to join me. They are my biggest fans and harshest critics and the reason I get up each day and head out the door," Hawkins says.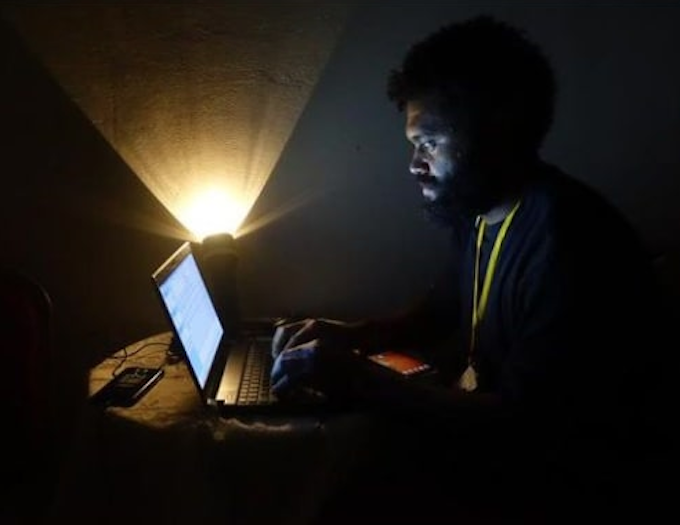 Cyclone Pam, Papua assignments toughest
By far the most difficult assignments he has done was covering Cyclone Pam in 2015 as well as travelling to West Papua with RNZ Pacific's legendary Johnny Blades.
"Cyclone Pam in 2015 was the most difficult in terms of length of time on the ground in challenging circumstances," he says.
And Tuilaepa-Taylor agrees with him .
"His coverage of tropical cyclone Pam in Vanuatu, and also coverage of the Fiji elections with Sally Round and Kelvin Anthony — these are the things that come to my mind," says Tuilaepa-Taylor.
Then there was the harrowing trip he went on to Jayapura in "untamed" West Papua in 2015 with Johnny Blades.
"Shooting video for Johnny Blades on a trip to West Papua was the most difficult in terms of operating in a hostile environment," he said
"It was harrowing in the sense that you were being watched (by the Indonesian authorities) who were surveillng you.
'Unnerving being watched'
"There was no harassment but it was very unnerving knowing you were being watched," he says.
"But I would say reporting on political situations in the region like the most recent election in Fiji are the most challenging journalistically in terms of getting the facts and local context correct," Hawkins says.
While in contrast he found the gentle and joyous Pacific creativity a very enjoyable experience.
"Our cultural festivals like the Festival of Pacific Arts or even Pasifika in Auckland and Wellington are the most enjoyable assignments for me seeing our Pacific cultures and languages celebrated gives me so much pride and hope for the future which my own children will inherit long after I am gone."
It is that very depth of experience he brings to the vastness of his role as editor.
"I think the most important thing I bring to the role is my experience I have worked my way up the ladder form the bottom in Pacific and New Zealand newsrooms.
"I have affinity to a few Pacific cultures through my own heritage, my partner Margret's heritage and through our extended families," Hawkins says.
Consultative style
He seeks in his editorial stye to be fair and yet firm, but not authoritative but rather being consultative.
" I believe we are stronger if everyone in the team contributes and I like to gather as much information and input as possible from my team before making decisions," Hawkins said.
"Because I literally started from the bottom, I am very empathetic to people's journeys and believe that where someone is now is not where they will be in a few years' time.
"A lot of people took a chance on me and invested in me and gave me opportunities that helped me advance in my own career and I aspire to pay that forward," Hawkins says.
With his time likely to be in high demand he will not continue doing Pacific Waves.
"No I will not be. The future of this role is still being decided. I am excited for whoever will be stepping into this role as it has been a transformative one for me.
"The programme has a huge regional and international following and we hope to continue building on the great work that was started by current and former RNZ Pacific colleagues.
And, does he hail from the Solomon Islands or elsewhere?
"That's probably a whole article in itself," he said.
"In short, I was born in Nadi to a Fijian father and a part-Fijian part-Solomon Islands mother. I was adopted when I was three-weeks-old by my great aunt, who I call my mum, and who raised me in Honiara, Australia and Munda in the Western Solomons in that order.
"I speak English, Roviana and Pidgin and understand very basic Fijian. Although I am keen to learn more.
Fond Aotearoa memories
He speaks fondly of Aotearoa and he remembers the first time he came to the country.
"The first time I ever came to New Zealand was actually in 2010, thanks to Professor David Robie and the AUT Pacific Media Centre.
"I presented on the ethnic crisis in Solomon Islands and was accompanied by my partner Margret little did we know then that our future lay in Aotearoa. I first came to New Zealand to work for RNZ International in 2014," he said.
The knowledge he intends to impart to his younger journalists to help them in the search for knowledge and experience comes from having been there and done that.
"I think sharing my experiences and being accessible has been well received so far. I am a living breathing example of how far you can come in this field if you apply yourself," Hawkins says.
"Just letting them know I am in their corner I think is important. Every chance I get I love to introduce and connect people and not just within RNZ Pacific but in the wider region.
"It gives me great joy to see someone succeed of the back of an introduction or a contact reference.
"This work is hard but know we are all in it together makes it a little more bearable. It really is about the person next to you," he says.
Sri Krishnamuthi is an independent journalist, former editor of the Pacific Media Watch project at the Pacific Media Centre and a contributor to Asia Pacific Report.