ABC PACIFIC BEAT: By Marian Faa, Prianka Srinivasan and Belinda Kora
Papua New Guinea's Foreign Minister has stepped aside after a widespread backlash to comments he made in defence of a video his daughter posted on TikTok.
Justin Tkatchenko called critics of the video "primitive animals" during an interview with the ABC on Wednesday.
The comments have been labelled racist and insulting, and sparked protests in PNG throughout the day, as well as calls for him to resign.
In a press conference yesterday afternoon, Tkatchenko said the decision to step aside was not easy.
"I'm stepping aside as foreign minister so that our country can move forward and that I can also clear my name and also clear the doubt and the misinformation that is out there, that is causing great grief to everyone concerned," Tkatchenko said.
PNG Prime Minister James Marape will take over as foreign minister as the nation prepares for a historic visit by US President Joe Biden and other Pacific leaders on May 22.
Tkatchenko has been closely involved in negotiating major defence and security agreements between PNG and the United States.
'Clear the air'
He said he wanted to "clear the air" ahead of the visits.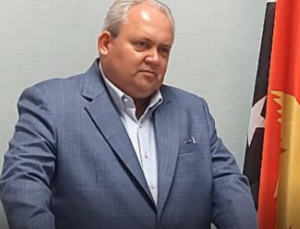 "I do not want to disturb this event. We have done all the hard work already. Now, it's the finalisation of the leaders arriving in the next coming days," he said.
"For me to step aside is the right thing to do. So that we can clear the air and make sure that all these issues that arose from misinformation, finally sorted out once and for all."
Marape thanked Tkatchenko for his decision.
"I want to commend the minister for putting the interest of the country ahead of his own," he said.
"I will take charge of the foreign affairs ministry and ensure that all the preparations for the upcoming historical visits remain on track in the next few days."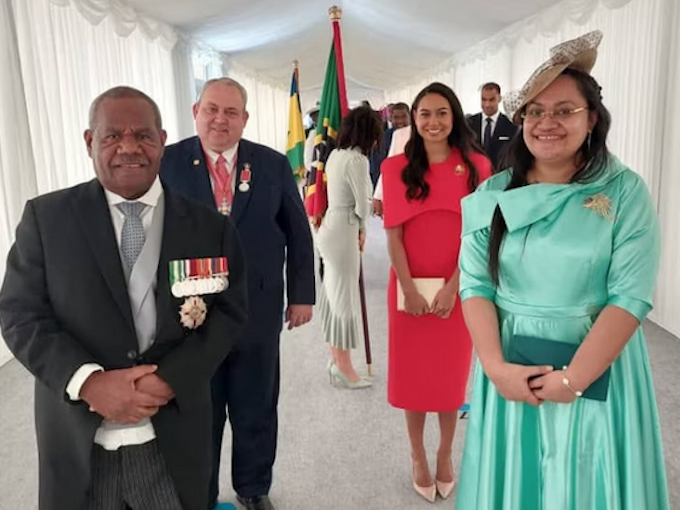 Opposition wants to deport Tkatchenko
Justin Tkatchenko was born in Australia but has lived in Papua New Guinea for 30 years and is a citizen.
"The last thing is that I'm going to destroy my beautiful home and ruin my reputation at the same time," he said.
"I have six beautiful children, and a wife who are all Papua New Guinean and the last thing that I would call Papua New Guineans is primitive animals."
He said the comments were directed at "cyber trolls" who attacked his daughter over a TikTok video she posted while accompanying him on a trip to the coronation of King Charles III.
The video, which was tagged #aussiesinlondon, flaunted cocktails and lavish meals at first-class airport lounges on the 4.3 million kina (NZ$2 million) taxpayer-funded trip.
"The people I made the comments to — individually — were those that were attacking my daughter on social media, putting up disgusting posts against her for doing absolutely nothing wrong," he said.
'Frustrated and angry'
"As a father, I was so frustrated and angry with the comments, sexual comments, violent comments, all sorts of comments that you would never want your daughter or any other woman or girl to be treated like to go through.
"To the people of Papua New Guinea, I sincerely apologise if you think that I meant bad to you … It was not intentioned at all for Papua New Guineans."
In a statement last night, Marape said he was offended by Tkatchenko's comments but called for forgiveness.
Tkatchenko said he was not the subject of any investigations.
PNG opposition leader Jospeh Lelang welcomed Tkatchenko's decision to step aside.
"However, [he] will still be referred to the Citizenship Board to determine his citizenship status and be deported. We will have nothing less than that," he told ABC.
While popular in his electorate of Moresby-South, Tkatchenko attracted controversy as the minister in charge of purchasing 40 custom-made Maserati luxury cars when PNG hosted the APEC summit in 2018, costing taxpayers 20 million kina (NZ$9.2 million).
Michael Kabuni, a former politics lecturer at the University of Papua New Guinea, said online media had played an unprecedented role in placing pressure on him to resign.
"Social media is beginning to shape the politics in ways we've never seen in past years," he said.
Republished from ABC Pacific Beat with permission.