By Murray Horton, editor of Foreign Control Watchdog
New Zealand's globally renowned peace researcher Owen Wilkes has been dead since 2005, but he is still very much in the news. Throughout his decades of peace research, both in NZ and overseas, Owen was the subject of intense interest by spy agencies, none more so than the NZ Security Intelligence Service (SIS).
Watchdog has been reporting this slow-moving saga for decades. He features throughout the SIS file on CAFCA ("SIS Spied On CAFCA For A Quarter Of A Century", Murray Horton, Watchdog 120, May 2009).
CAFCA tried to get the SIS Personal File on Owen. The SIS released a tiny smidgen of it. And that was the end of it as far as CAFCA was concerned. To get that, we had to work with Owen's younger brother, his only surviving blood relative, as he was (and is) the only person with legal standing to request access to Owen's file.
Despite Owen having retired from his peace work many years before he died, the SIS still won't release his full file to family or researchers, only the odd sliver of it. The SIS admits to holding six volumes on Owen. Among the reasons given for continuing to withhold it is that releasing it "would be likely to prejudice the security or defence of New Zealand or the international relations of the Government of New Zealand".
Maire Leadbeater, the veteran and indefatigable activist and historian, took up the cudgel. She secured some more of Owen's SIS file, also with the vital cooperation of Owen's brother. Reading those documents led me, in 2019, to straight away ring Owen's ex-wife, Joan Hazlehurst (the exact 1976 date of their legal separation is recorded in the file) to inform her that she is listed in it as "Relative Of Interest" (i.e. wife) and was therefore likely to be the subject of her own SIS file. I urged Joan to apply for it.
She didn't do so until 2023, when she asked the SIS for what it has on file about her. And she duly received a small amount of material, in May 2023, which she promptly copied to me. The accompanying letter to her (15/5/23) from SIS Director Andrew Hampton says that she was never the subject of an SIS Personal File. Any material it held on her was in Owen's file.
There is one paragraph in Hampton's letter that cannot pass without challenge, in fact it is breathtaking.
"As a high-profile peace activist during a period when the USSR sought to use the legitimate peace movement to further its own geopolitical objectives, Owen Wilkes came to NZSIS attention (as did you, purely by association). Mr Wilkes was never, however, considered to be a threat to security."
Which begs the question: If "Mr Wilkes was never considered to be a threat to security", why did the SIS spy on him for decades (and on people close to him, such as his then wife)? Why does the SIS still refuse to release the bulk of its file on him?
Still lying about the NZ Peace Movement
Then there is the not so subtle smear of the "legitimate peace movement" being used by the former USSR to "further its own geopolitical objectives". That was an outrageous lie then and even more so in a letter written in May 2023. What is Director Hampton implying here?
For example, is the suggestion that those who successfully campaigned for NZ to become nuclear free (something that is so much part of the cultural furniture that it is used in beer commercials) were puppets of the Kremlin? The SIS needs to explain why it spied on someone for decades who was "never considered a threat to security". And release his full file forthwith.
And the SIS needs to apologise to the peace movement (not just the "legitimate" one. Was there an illegitimate one?) for still spouting tired old Cold War libels.
I'm not going to detail any of what is about Owen in this latest release. It's from so long ago (Owen and Joan were married from 1964-76) and is frankly trivial. Although I was amused to see him describe his occupation on one international travel document as "subsistence farmer".
SIS Director Hampton wrote to Joan: "We consider it is appropriate to explain why the NZSIS holds historical information about you from 1966 through to 1990. Briefly, you came to the attention of the NZSIS because of your membership of the NZ-China Friendship Society (NZCFS) and your marriage to Owen Wilkes".
"During the Cold War the various communist parties were deemed subversive and also their influence in front and friendship organisations, and mainstream protest movements. The NZCFS was among such friendship organisations until 1984, when the Society was assessed as no longer being of security interest" (letter, 15/5/23, ibid.).
The SIS devoted a lot of time trying to track Joan's international travels during the 24 years it was spying on her.
Joan Hazlehurst (or Wilkes, as she was back then) took part in CAFCA's two foundational activities. In 1974 she and Owen were among the Kiwis — I was another — who took part in the Long March, a bus trip right across Aussie, from Sydney to the US Navy's nuclear submarine communications base at North West Cape, the westernmost point of mainland Australia.
And in 1975 she and Owen were among the two busloads of people (including Aussies) who comprised the South Island Resistance Ride, which was inspired by the Long March. Out of this arose CAFCINZ, which morphed into CAFCA in the 1980s.
Owen was one of our founders. Joan was one of those who typed the very first versions of what was to become Watchdog onto stencils for printing on a Gestetner.
Rediscovered
As for Owen, dead since 2005, he is turning out to be having a year in 2023.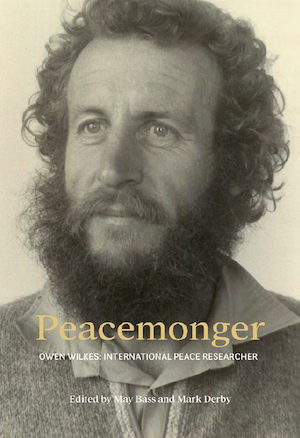 Peacemonger, the book of essays about him, was published in late 2022 (you can read the chapter I wrote for it, "Owen Wilkes And The Anti-Bases Campaign" in Watchdog 162, April 2023).
Peacemonger got a major boost when it, and Owen, were the cover story in the June 10 (2023) Your Weekend lifestyle magazine, which goes out with Stuff newspapers (Eugene Bingham, "The Forgotten Activist. Remembering The Extraordinary Life Of Homespun Hero Owen Wilkes").
It's well worth reading. And it was a major coup getting it into such a publication, not to mention downright odd. Owen would have loved the irony of him gracing the cover of a magazine devoted to fashion, music, food and "wellness".
The fashionistas would have been non-plussed to open their usual read, only to find the cover photo was of some real old school bearded dude in shorts and bare feet sitting in a hut. (I only have one fashion story of Owen. After high school I swore never to wear shorts again. Decades later I told Owen I'd changed my mind. He replied: "I was always a trendsetter". But I never went as far as the leather ones he favoured).
Murray Horton is a political activist, advocate and researcher. He is organiser of the Campaign Against Foreign Control of Aotearoa (Cafca) and editor of Watchdog, and he has been an advocate of a range of progressive causes for the past five decades. Horton occasionally contributes articles for Asia Pacific Report and this article is republished from Watchdog 163.