An Israeli air strike has hit Al Ahli hospital in Gaza City where thousands of civilians are seeking medical treatment and shelter from relentless attacks. The Gaza Health Ministry said at least 500 people were killed in the hospital blast. Donna Miles, an Iranian-Kiwi columnist, penned this article before news of the attack on the hospital.
COMMENTARY: By Donna Miles
Of everything that I have read and watched about the unfolding events in Israel and Gaza, a tweet and a short video have stood out the most.
The tweet came from Dov Waxman, a professor of Israel studies at the University of California, Los Angeles. It read:
"To the people celebrating the mass murder of Israeli citizens, you have lost your humanity. To the people enthusiastically calling for Israel to decimate Gaza, densely populated with 2 million Palestinian citizens, you have lost your humanity. Israelis and Palestinians are real people, just like you and me."
The video, posted on X, is a short clip of an interview with the distressed father of the young Israeli woman whose video of being taken hostage on a motorbike went viral on social media.
The father speaks in Hebrew with a voice full of pain. A written translation reads:
"Also Gaza has casualties… mothers who cry… let's use this emotion, we are two nations from one father, let's make peace, a real peace."
The heroic words of this Israeli father and his belief in peace, despite his incredible suffering, reduced me to tears.
To the people celebrating the mass murder of Israeli civilians, you have lost your humanity. To the people enthusiastically calling for Israel to decimate Gaza, densely populated with 2 million Palestinian civilians, you have lost your humanity. Israelis and Palestinians are real…

— Dov Waxman (@DovWaxman) October 9, 2023
We, the international community, bear a big responsibility for the bloodbath of the past few days and the hell that is to come by failing to bring "a real peace" for Palestinians and Israelis.
A Gazan schoolgirl looks into the BBC camera and says: "I wish I could be a normal child, living with no war".
We, the international community, have failed this child and one million other Gazan children who are about to pay "a huge price" for the crimes that they've had no parts in.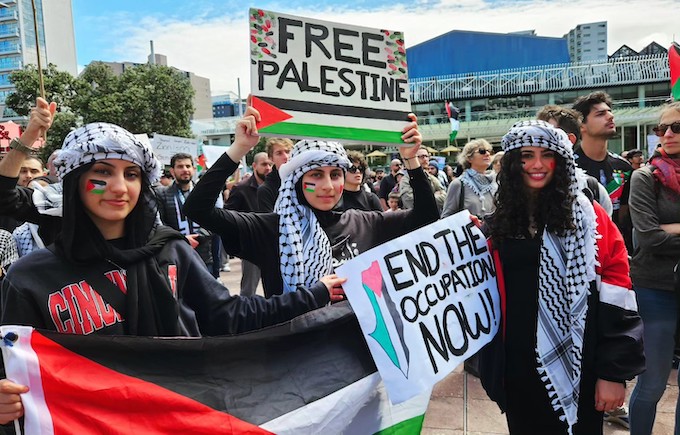 For more than 40 years, hundreds of UN Security Council and General Assembly resolutions, including one co-sponsored by New Zealand, have stated that "Israel's annexation of occupied territory is unlawful, its construction of hundreds of Jewish settlements are illegal, and its denial of Palestinian self-determination breaches international law", but there has been no accountability for Israeli occupation and its apartheid practices.
But now that we have this horror unfolding before our eyes, we are, at last, prepared to pay attention and listen to Palestinians as they are finally invited to the likes of CNN and BBC to tell us that what we have seen in the past few days, they have been experiencing for the past 75 years.
Husam Zomlot, the head of Palestinian Mission to the UK, described Gaza as the biggest open air prison, where 2 million people have been taken hostage by Israel for the last 17 years.
As I type this, Israel has ordered a total siege of the densely-populated Gaza, cutting off fuel, food and electricity to an already deprived population while conducting massive retaliatory airstrikes.
Half of Gaza is children
Half of Gaza's 2.2 million population are children. These children have no Iron Dome to stop the rockets, and no sophisticated army to protect them as their houses are flattened and their bodies are charred and mangled.
An airstrike has already wiped out 19 members of the same Palestinian family who were sheltering in their house in a jam-packed refugee camp in Gaza.
A shell-shocked survivor of the strike said he didn't understand why Israel struck his house. "There were no militants in his building, he insisted, and his family was not warned".
Many Gazans have already lost family members, including children and infants, in previous wars.
The 2-year-old son and wife of Israel's most wanted man, the leader of Hamas' military arm, Mohammed Deif, were killed as Israel tried and failed to kill him during the 2014 Israeli offensive on Gaza which, shockingly, killed over 500 Palestinian children.
Targeting schools, hospitals, mosques and marketplaces, as Israel is doing now and has done in the past, in a densely populated area where people have nowhere to flee, can only reflect Israel's total disregard for the lives of Palestinian civilians.
If we expect occupied people not to target civilians then surely we must demand the same from their powerful occupier.
It's rare to find a full body with all its parts the deeper we went into the hospital the more shocking and terrifying the scene became in gaza in result of the israeli air strike that hit the #baptisthospital #Gaza pic.twitter.com/tR9KC5sRvb

— PALESTINE ONLINE 🇵🇸 (@OnlinePalEng) October 17, 2023
Staggering failure
There has been much talk about the staggering failure of Israeli intelligence on multiple fronts. But Israel's biggest intelligence failure is the ongoing assumption that occupation can ever co-exist with peace — it cannot.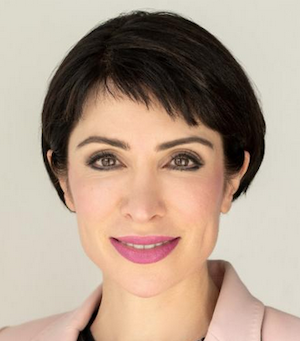 I have no doubt that Prime Minister Benjamin Netanyahu will do as he has promised and will exact "a huge price" for Hamas' murderous attacks.
But we have been here before, and, time and time again, have learnt that collective punishment of Palestinians will only strengthen their resolve to fight for their freedom.
In his first message after the attacks, Netanyahu quoted from the poet Hayim Nahman Bialik: "Vengeance… for the blood of a small child, / Satan has not yet created."
Netanyahu left out the preceding line: "Cursed be he who cries out: Revenge!".
Killing more Palestinians will not solve Israeli's security problems. The only path to peace is by ending the illegal settlements, annexations and dispossession of Palestinians.
Donna Miles is an Iranian-Kiwi columnist and writer based in Christchurch. This article was first published in The Press last Friday and is published here with the permission of the author.