Major media organisations all over the world are copping criticism for the way they are reporting what is happening in Gaza and Israel. Mediawatch has asked BBC news boss Jonathan Munro how they are handling it — even when it is coming from the UK's own government.
RNZ MEDIAWATCH: By Colin Peacock, RNZ Mediawatch presenter
"Palestinian health officials in Gaza say hundreds of people have been killed in an explosion at a hospital in Gaza. They're blaming an Israeli strike on the hospital.

"But the Israel DefenCe Forces said an initial investigation shows the explosion was caused by a failed Hamas rocket launch."
That was how RNZ's news at 8am last Tuesday reported the single deadliest incident of this conflict so far — and likely to be the deadliest one in all of the five times Israel and Hamas have fought over Gaza so far.
The Israeli Defence Force also singled out Islamic Jihad for the atrocity — but the absence of hard evidence put the media reporting it in a difficult position.
"It's still absolutely unclear. There are varying bits of information that are coming out for now. I don't think anybody can quite say . . . it's most likely to have been Israel," the BBC Middle East editor Sebastian Usher told RNZ on Wednseday night.
"They said it seems like it might be a misfired rocket,"
Huge anger on streets
"We can't say for now, but I don't think  — in terms of the mood in the Arab world and the Middle East — that that really matters. People out on the streets are showing huge anger and they will reject any investigation, any Israeli claim, to say that Israel is not responsible," he said.
Reporting those claims and counterclaims creates confusion among the audience. It's also stoked the anger of those objecting to reporters' choice of words.
CNN's Clarissa Ward, for example, was criticised heavily on social media for mentioning the Israeli Defense Force claims — and then expressing doubt about them at the same time.
A video showing a pro-Palestinian protester calling Clarissa Ward "a puppet" has gone viral on social media. So did another falsely accusing her of faking a rocket strike.
The longer version of the video of Egyptian podcaster Rahma Zein confronting CNN reporter Clarissa Ward at the Rafah crossing. It's raw, sincere, and powerful. Much respect for Rahma, she expressed our collective pain at the Western media's dehumanization of the Palestinians. pic.twitter.com/yfB7zFYPwe

— Amro Ali (@_amroali) October 20, 2023
Her CNN colleague Anderson Cooper was also criticised online for referring to a huge civilian loss of life during the live report from Tel Aviv in Israel and repeating himself, but then without the word "civilian".
Among those who, alongside expert investigators, tried to sift the available evidence and cut through the information war was Alex Thompson, correspondent for UK broadcaster Channel Four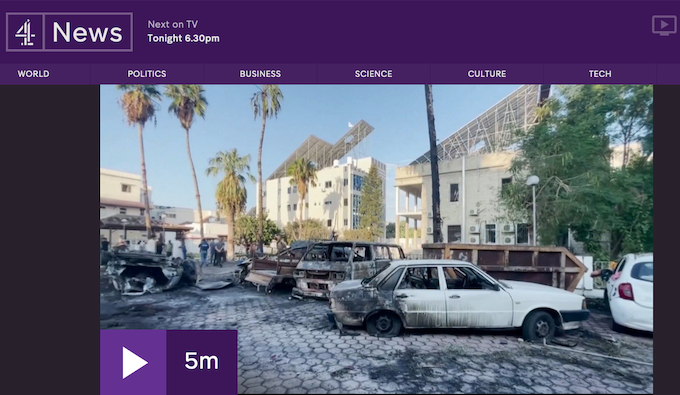 "Israel and Hamas can tweet what they like. The truth of what happened here requires independent expert investigation — not happening," was Alex Thompson's bleak conclusion.
'A fierce information war'
"Any doubt is due to a fierce information war that in truth matters little to the victims of the Gaza hospital tragedy," another British correspondent — ITV Jonathan Irvine — said on Newshub at 6 last Tuesday.
At times, broadcasters have used the wrong words and given audiences the wrong idea.
Last week the BBC's main evening news bulletin made a rapid apology for describing pro-Palestine protests in the UK as "pro-Hamas".
"We accept that this was poorly-phrased and was a misleading description," the presenter told viewers just before the end of the bulletin.
And earlier this month, people protested outside the BBC News headquarters in London about the BBC's long-standing policy of not labeling any group as "terrorists".
"You don't seem to be particularly interested. If the BBC seems to refuse to call terrorists even though the British Parliament has legislated them terrorists — that is a question I haven't heard the BBC answer yet," UK government Defence Secretary Grant Shapps told the BBC radio flagship news show Today.
"Have you not seen any of the coverage on the BBC of the atrocities, the dead, the injured, the survivors?" the startled presenter asked him.
"How can you say that we're not interested?" she replied, when Shapps said he had.
An obligation to audiences
The BBC's deputy chief executive of news Jonathan Munro was at Sydney's South by Southwest festival this week to talk about how the BBC delivers news from and about conflict zones.
"We've already seen journalists lose their lives in this country, working for organisations who are also facing the same dilemmas as we are," said Munro, who is also the BBC's director of journalism.
"We've got an obligation to audiences to explain what's going on and that involves lots of people on the ground as witnesses to events, but also the analysis that comes with expert knowledge," he told Mediawatch.
"Expertise is just invaluable. People like Jeremy Bowen (former Middle East editor and current international editor of BBC News) and our chief international correspondent Lyse Doucet and correspondents who are based in that region," he said.
"But the main story here is the catastrophic loss of life and the appalling conditions that people are living in and that the hostages are being held in — the humanity of that," he said.
A lot of reporting people will see, hear and read will come from Israel. Reporting from Gaza itself is difficult and dangerous — and access to Gaza at the border is restricted by Israel.
"We have a correspondent in Gaza, but he's moved from Gaza City to Khan Yunis in the south of the strip, a safer option. But he can't report 24 hours a day, and he is looking after his family which is paramount.
Need for transparency
"So we do have to add to that [with] reporting from Israel and from London by people who know Gaza very well," he said.
"We have to be transparent about that and tell the audience and then the audience knows that wherever it's coming from, and you still hold editorial integrity."
A lot of what people will be seeing from Gaza is amateur footage and social media content that's very difficult to verify.
The BBC recently launched BBC Verify, dedicated to checking out this kind of material and vetting its use.
"There's a huge amount of video out there on social media we can all find at the touch of a button. The brand of BBC Verify is a signpost that the material . . . has been checked by us using methods like geolocation and looking at the metadata," he said.
Even when verified, there are still ethical dilemmas.
For example, BBC Verify used facial recognition software to analyse images of an individual in the Hamas surprise attacks on October 8. It identified one gunman as a policeman from Gaza.
Independently verifying claims
"It's case-by-case — but something shouldn't go out on the BBC without us knowing it's true. There are occasions we would broadcast something and we would tell the audience that we've not been able to independently verify a claim . . . and we need to caveat our coverage of the reaction to it with the fact that we do not have our own verification of source material," he said.
Major media outfits all over the world are copping criticism for the way they're reporting what's happening in Gaza and Israel. Mediawatch asks BBC news boss Jonathan Munro how they're handling it – even when it's coming from the UK's own government https://t.co/gm8Fyv4ar1

— Mediawatch (@MediawatchNZ) October 21, 2023
Even before the Al Ahli hospital catastrophe amplified emotions, intense scrutiny of reporters' work was adding to the stress of those reporting from the region.
"Every word you say is being scrutinised so closely and is likely to be contested by one side or the other more or both — and that definitely adds to the pressure," Channel Four correspondent Secunder Kermani told the BBC's Media Show last week from Gaza.
"In the Israel Gaza situation it is critical. Every word can be checked and rechecked and double checked for any implication which is either inferred or implied by accident.
"Because our job is to be impartial, tell the reality of the story, and most importantly, share the witnessing of that story by our correspondents," Jonathan Munro told Mediawatch.
"That's why we've got a significant number of correspondents in Israel and back in the newsroom in London are adding explanations and leaning into that scrutiny on language," he said.
Adjectives 'can be dangerous'
"We're using expertise, our knowledge as an organisation and we're making sure that at every stage of that every sentence, every paragraph is reflective of what we know to be true.
"But adjectives can be dangerous, because they may imply something which is more emotive than we mean. We have to be quite clean in our language in these circumstances," he said.
"Of course, people can come on the BBC and express their views in language of their choice. All of those things help to keep our coverage straight and honest and ensure that correspondents on the ground aren't in danger by slips or mistakes that are made in good faith elsewhere in the BBC output."
Last week at its annual conference, senior members of the Conservative Party — which is in power in the UK — heavily criticised the BBC for alleged bias and elitism. Some — including home secretary Suella Braverman and former prime minister Liz Truss made a point of praising GB News — the new right-wing TV channel backed by billionaire Brexiteers — for disrupting the news.
"The criticism of the BBC from politicians is as old as the BBC itself. Just because they're habitual critics doesn't mean they're wrong, but we've got a well developed set of editorial guidelines which have stood the test of time over many, many difficult stories," Munro told Mediawatch. 
"The editorial guidelines are robust and public. You can go online and look at them. All of our journalism abides by those guidelines and if you have guidelines that you believe in as an organisation, that's a significant defence to some of the less well-founded attacks that we sometimes find ourselves on the end of," he said.
Colin Peacock is RNZ Mediawatch presenter. This article is republished under a community partnership agreement with RNZ.