By David Robie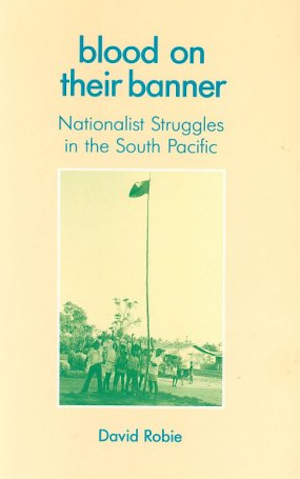 "The South Pacific is no longer pacific. Nationalist struggles against colonialism, indigenous claims for sovereignty, and superpower rivalry have turned it into a zone of growing tension. David Robie, a New Zealand journalist covering the region for the past decade, provides a devastating expose of the political forces which have shaken the South Pacific over the past few years.
"He also argues that the policies of France, Indonesia and the United States pose the gravest threat to the stability of the region.
"The author describes the liberation struggle of New Caledonia's Kanaks to end French rule; the fate of President Remeliik of Belau, an island with the world's first nuclear-free constitution; the pressures on Vanuatu as a result of its opposition to nuclear weapons; Indonesia's two "forgotten wars" in East Timor and  West Papua; and the coup which has divided the two communities of Fiji.
"Graphic accounts include the massacres of Hienghène and Ouvéa, the siege of Thio and the assassination of Ëloi Machoro – regarded by some as the Che Guevara of the South Pacific." – Zed Books, London, United Kingdom
"As Robie makes clear in this eloquent book, the South Pacific is far from pacific." — Ross Fitzgerald, The Sydney Morning Herald, September 29, 1990 (Australia)
"I have read all of the Robie books I ordered. They are all excellent and deal with a neglected area of the world – the Pacific Small Island States. I have ordered the books now because I plan to teach a course at postgraduate level on Decolonisation and Self Determination in the Post-Globalisation Era: Lessons from the Pacific."  — Clarence Dias.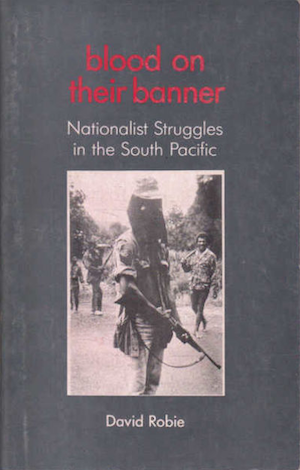 David Robie is a New Zealand author, journalist and media educator specialising in Asia-Pacific affairs. He is founding director of the AUT Pacific Media Centre and editor of Pacific Scoop, Asia Pacific Report, Pacific Media Watch and PMC Online.
He was on board the Greenpeace ship Rainbow Warrior bombed by French secret agents in 1985 and his book about that fateful voyage to the Marshall Islands is called Eyes of Fire.
A sequel in 2014, Don't Spoil My Beautiful Face: Media, Mayhem and Human Rights in the Pacific (Little Island Press), are among his many other books. David's media blog is Cafe Pacific.
Dr Robie was awarded New Zealand's 1985 Media Peace Prize for his reporting of the voyage and the subsequent sabotage of the Greenpeace vessel.