New Zealanders played a critical part in a flash-point that ignited a guerilla war threatening the economy and stability of Papuas New Guinea. David Robie examines the New Zealand connection and the conflict centred on Bougainville island – a far-flung and troubled part of Papua New Guinea.
By David Robie in Sunday Magazine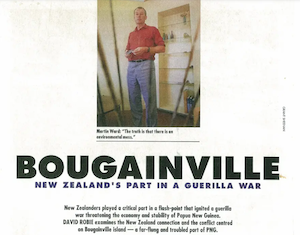 It is a bitter, stormy meeting at the Bougainville township of Panguna — site of one of the world's largest open-cut copper mines. Finally, Francis Ona, soon to be a rebel leader with a $380,000 price tag on his head, marches up to Wellington environmentalist Martin Ward. he thusts his face menacingly in front of Ward and points to the altar crucifix. "Em big fella kilim i dai," he hisses in Tok Pisin. "Mipela nogat likem report bilong yu, mipela kilim yu dai." Ona draws his finger across his throat in case Ward misses the point.