By Greenpeace
The Boat and the Bomb is a 2005 documentary marking the 20th anniversary of the bombing of the Greenpeace flagship the Rainbow Warrior by secret agents of the French military in Auckland Harbour, New Zealand.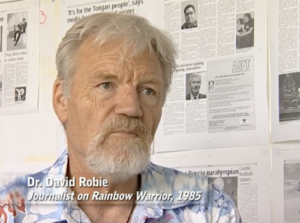 On the night of 10 July 1985 the Rainbow Warrior had been docked in harbour for three days while preparations for the protest voyage to the nuclear test site at Moruroa Atoll were being finalised.
Just before midnight two bombs exploded sinking the ship and killing cameraman Fernando Pereira.
The Greenpeace environmental ship had been earlier on a voyage to Rongelap Atoll in the Marshall islands where the crew helped evacuate the islanders to evacuate to a other islet, Mejato, on the US military base atoll Kwajalein.
The documentary includes images of David McTaggart, Steve Sawyer, Marion Hobbs, Martini Gotje, Pete Willcox, Hanne Sorrensen, Paul Brown (UK journalist), Marelle Pereira, Fernando Pereira, Henk Haazen, Edwy Plenel (French journalist), Allan Galbraith, Rien Achterberg, Bunny McDiarmid, David Lange, Margaren Crozier, David Robie (NZ journalist) and Stephanie Mills.