Jubi News in Jayapura
Church leaders across denominations in Papua have urged President Joko "Jokowi" Widodo to stop military operations and to promote a humanitarian approach with negotiations in handling the Papua conflict instead.
Attempts to free New Zealand pilot Philip Mehrtens who was taken hostage by the West Papua National Liberation Army (TNPPB) on February 7 were highlighted.
Mehrtens also pleaded for an end to military operations in a video released by his captors earlier this week, saying: "Please, there is no need, it is dangerous for me and everybody here."
Among the clergy voicing the appeal to the President were Bishop Yanuarius You of the Jayapura Diocese, GIDI President Reverend Dorman Wandikbo, president of the West Papua Baptist Churches Fellowship Reverend Socratez Sofyan Yoman, chair of the Kingmi Synod in the Land of Papua Reverend Tilas Mom, chair of the GKI Synod in the Land of Papua Reverend Andrikus Mofu, and moderator of the Papua Council of Churches Reverend Benny Giay.
The pastors said this concern stemmed from the fear of civilian casualties following the recent upgrade of Papua military operation status to a "ground combat ready" alert by Indonesian military (TNI) commander Admiral Yudo Margono last week.
"We do not want civilian casualties, therefore, with utmost respect, we ask the President of the Republic of Indonesia to strongly order the military commander to withdraw troops from Papua," said Bishop You on Wednesday.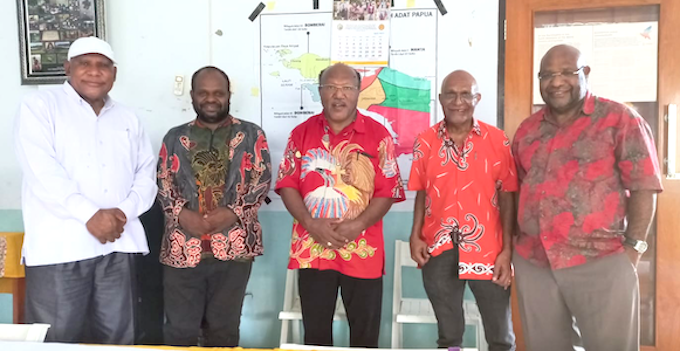 "And it is necessary to take a humanitarian approach, through negotiations."
91 extrajudicial killings
Amnesty International Indonesia noted that from 2018 to 2022 there were at least 91 cases of extrajudicial killings involving the Indonesian Military (TNI), police, prison officers, while the TPNPB had killed at least 177 civilians.
Meanwhile, the number of security forces members who were killed in the same period was 44 with 21 TPNPB dead.
Data from the Institute for Policy Analysis and Conflict Studies (IPAC) also shows that the number of violent incidents related to armed conflict in Papua from 2010 to 2021 continued to increase, exceeding 80 cases in 2021.
In these violent cases, at least 320 people were killed, with as many as 98 percent of the deaths (316 people) occurring in Papua Province.
The victims are mostly civilians (178), followed by security forces (92) and members of the armed group (50).
Research from the Center for Strategic and International Studies (CSIS) also revealed that violence in Papua is four times greater than the Indonesian national average.
This is ironic considering Papua has the highest ratios of security forces per population compared to other provinces.
Special envoy to free Susi Air pilot
The church leaders asked President Jokowi to appoint a special envoy to negotiate with the TPNPB to release pilot Mehrtens.
"President Joko Widodo should appoint a team of special envoys to negotiate with the TPNPB, such as in the settlement with the Free Aceh Movement (GAM) on August 15, 2005," said Reverend Socratez Sofyan Yoman.
"That is an example the current government can follow."
Another negotiation alternative, said Yoman, is through the church.
"Let the negotiation team from the church approach TPNPB leader Egianus Kogoya," he said.
Reverend Dorman Wandikbo said that because of the armed conflict, both Indigenous Papuans and non-Papuans had lost access to basic services such as housing, health services, schools, and churches.
"Today there are more non-organic troops in Paniai, Dogiyai, Deiyai, Intan Jaya and Nduga than in 2018.
Children 'can't go to school'
"Children cannot go to school because schools are used by the military, as well as the community health centers, pastorate houses, and churches.
"Papuans cannot stay at their home, many have fled to the forest due to concerns for their safety," said Wandikbo.
Reverend Benny Giay said that their demand for solving the Papua problem without weapons was in line with President Jokowi's public statements.
He hoped that Jokowi would fulfill his commitment.
"We as church leaders have followed the political development in Papua since August 2019," he said.
"After all, the president himself in his speech on June 15, 2021, talked about solving the Papua problem without weapons.
"Even before that, on September 30, 2019, he had spoken his intention to meet with the TPNPB," said Reverend Giay.
Republished from Asia Pacific Report and Tabloid Jubi with permission.