By Kelvin Anthony in Port Vila

The Melanesian Spearhead Group Secretariat's Director-General, Leonard Louma, says the Pacific region continues to be the centre of geopolitical interests by global superpowers.
The 22nd MSG Leaders' Summit is taking place in Port Vila this week– the first full in-person meeting since the covid pandemic.
The prime ministers of Fiji, Solomon Islands, Papua New Guinea and the president of the FLNKS (Kanak and Socialist National Liberation Front) of New Caledonia are confirmed to attend the leaders' session on Wednesday.
Louma said the battle for influence "impels the region to take sides, but it does not protect Melanesia and the region".
"There are some who would like us to believe that taking sides in that geopolitical posturing is in our best interest. May I hasten to add, I tend to defer — it is not in our best interest to take sides," Louma said.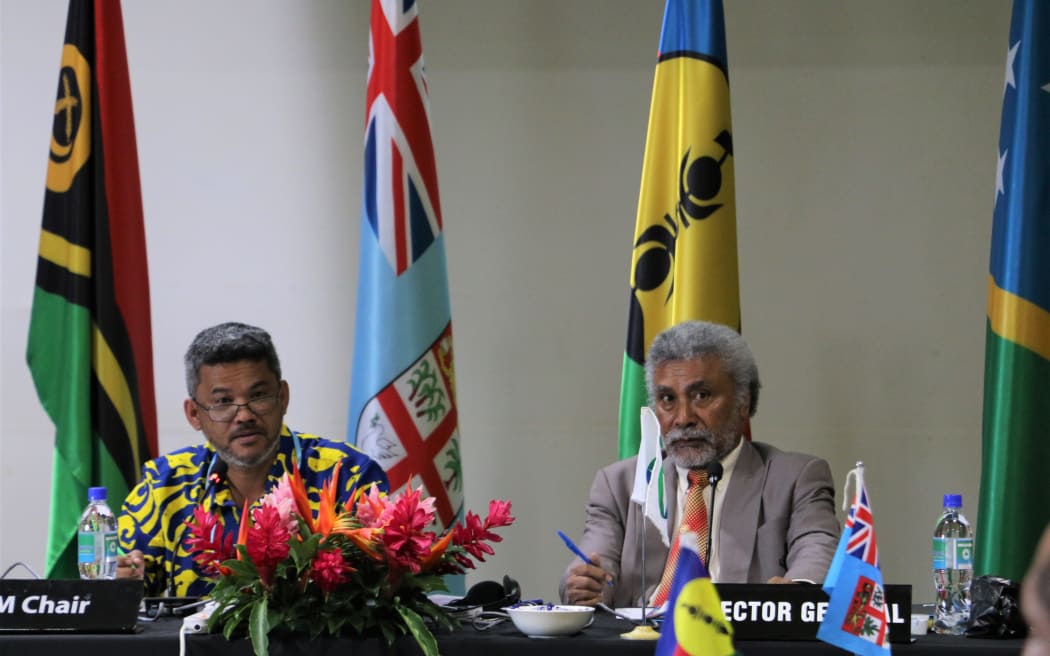 The director-general also took aim at MSG member countries for not moving with "urgency" on issues that have been on the Leaders' Summit agenda.
"Certain decisions also made by leaders and the foreign ministers of past continue to languish on the shelf and there seems to be no real sign of a desire to implement."
Free trade
Louma said the MSG Free Trade Agreement had "somehow been tethered to other training and commercial arrangements".
"Our enthusiasm to cooperate appears to have waned. We need to rejuvenate this enthusiasm and appetite for industrial cooperation that once was the hallmark of MSG," he said.
Vanuatu's Foreign Minister Matai Seremaiah has urged Vanuatu and Papua New Guinea to sign up to the trade agreement which has already been signed by Fiji and Solomon Islands.
Prime Minister Ishmael Kalsakau told RNZ Pacific he shared the concerns of his deputy on the issue of the free trade agreement.
"Vanuatu must adhere quickly. If you look at the theme of the meeting it's about being relevant and being relevant means that we've got got to participate as a core group so that we can advance all our interests together," he said.
Leonard Louma said the MSG needed to make concessions where it was needed in the interests of MSG cohesion.
"The nuclear testing issue in the Pacific could not have proceeded the way we had proceeded without MSG taking a strong position on it."
In his opening statement at the Foreign Minister's session on Monday, Seremaiah said there were two key draft declarations that would be put for the leaders' consideration.
The first one would be on climate action and "urging polluters not to discharge the treated water in the Pacific Ocean," he said.
"Until and unless the treated water is incontrovertibly proven to be safe to do so and seriously consider other options."
The second was a declaration on a MSG region of peace and neutrality, adding that "this declaration is aimed at advancing the implementation of the MSG security initiatives to address national security needs in the MSG region, through the Pacific way, talanoa or tok stori and binded by shared values and adherence to Melanesian vuvale, cultures and traditions".
The MSG Pre-Summit Foreign Ministers Meeting has concluded with recommendations to be submitted to this weeks' 22nd MSG Leader's Summit. It was chaired by Hon. Matai Seremiah, MP, Deputy Prime Minister & Minister for Foreign Affairs, International Cooperation & External Trade. pic.twitter.com/Xe87w27BtW

— MSG Secretariat (@MsgSecretariat) August 21, 2023
West Papua
This year's agenda also includes the issue of the United Liberation Movement for West Papua (ULMWP) application to become a full member of the sub-regional body.
The movement is present at the meeting, as well as a big delegation from Indonesia, represented by its Vice-Minister for Foreign Affairs.
However, neither Seremaiah nor Louma made any mention of West Papua in their opening statements.
West Papua observers and advocates at the meeting say the MSG is like a "custom haus or nakamal" for the Melanesian people.
They say Vanuatu has the opportunity to make this more than a "normal MSG" if it can be the country that gets the MSG Leaders' Summit to agree to make the ULMWP a full member.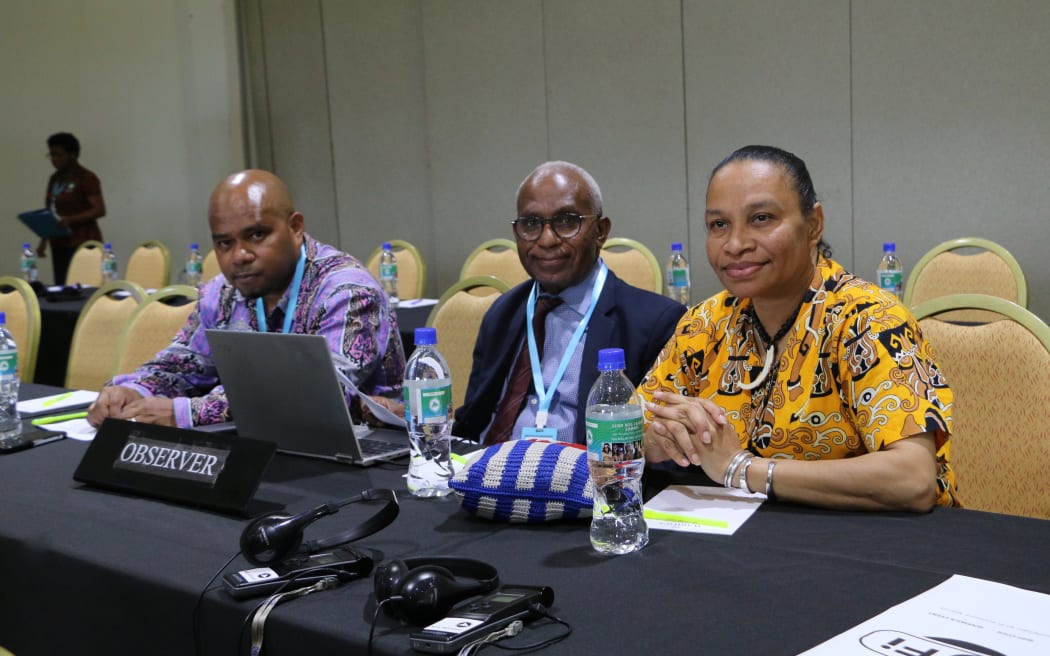 Kelvin Anthony is an RNZ Pacific journalist in Port Vila. This article is republished under a community partnership agreement with RNZ and Asia Pacific Report.