REVIEWS: By David Robie
When it first appeared in 1977 under the title Moruroa, Mon Amour, the Danielsson's book was a damning indictment of French nuclear colonialism in the Pacific. For France, it had the effect of whipping up a tsunami, a tidal wave of hostile public opinion, that the French-language edition (Stock, 1974) was unable to achieve.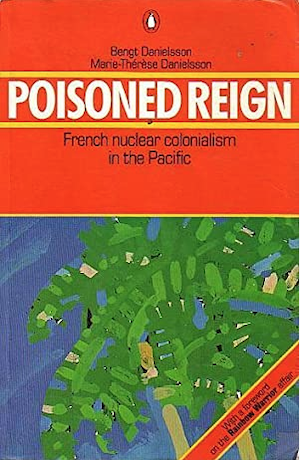 More than any writers, the Danielssons have exposed the arrogant and cynical way that a succession of French governments and leaders fron Charles de Gaulle on, have exploited the Tahitian people and their culture for a fallacy based on the force de frappe.
Now their revised edition, Poisoned Reign, which adds a further none chapters and an epilogue on "Underwatergate", brings us up to date about France's nuclear hostage  in Polynesia.
Among one of the more moving passages is a statement by Ian Mana Te Nunaa leader Jacqui Drollet: "Our land," he says, "has changed hands, we have sold it for a dream. Our power of decision has been taken from us and all we have got in exchange are a few social welfare benefits.
"Our society has become tough, cruel, merciless, and we are dominated by a new desire to make individual profits. To continue along this road is sheer nuclear prostitution."
This edition includes a foreword by Chris Masters, who produced an award-winning television documentary, French Connections. Viewed in exclusion, the Rainbow Warrior affair does seem bizarre," he observes.  "Viewed, however, in the context of French Polynesian history as revealed in this book, it is not surprising.
"The vile treatment by France of the Tahitian autonomist Pouvanaa a Oopa is no less shocking than the killing of Fernando Pereira."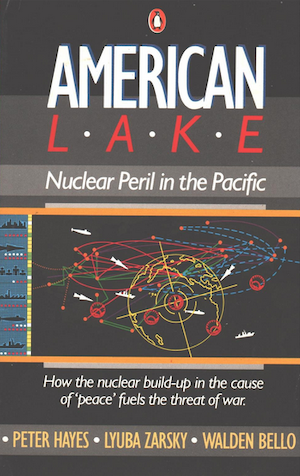 Also from Penguin Australia, is American Lake, a detailed exposé of the state of the Soviet and United States nuclear stand-off in the Pacific. It warns that recent changes in superpower military strategy and force deployments have made it just as likely that World War III could break out in the Pacific as in Europe or the Middle East.
The authors, researchers with Nautilus Pacific Research, have spent several years compiling this long awaited wealth of information. They make telling use of previously undisclosed and formerly classified Pentagon files obtained under the US Freedom of Information Act.
They highlight the "deadly connection" between nuclear and conventional weaponry, "which is central to fully comprehending the nuclear power in the Pacific".
The vast size and power of the US Pacific Command is explained and the authors conclusively reject US rhetoric about the "increasing Soviet threat" in the Pacific. Concluding that the Soviet military machine is homebound and vulnerable, the authors add that it is "vastly inferior to the US in every dimension".
American Lake also touches briefly on the role of the Nuclear-Free and Independent Pacific (NFIP) movement which has provided a powerful "people's diplomacy" since the early 1970s. It could have examined this rather more closely, but perhaps it is better tackled by other authors.
Both books are compulsory reading for anybody seriously advocating a truly peaceful order in the Pacific.